Come to Slovakia and spend an adventure hiking weekend in picturesque Mala Fatra mountains. This area is not very well known abroad, however it has everything for a great hiking experience. Beautiful scenery, waterfalls, wildlife… During the weekend you will hike to the highest peak of the Mala Fatra, walk the main ridge to enjoy breathtaking views, hike through the gorge Janosikove diery with fascinating cliffs around and climb ladders along small waterfalls. You can´t be afraid of heights to enjoy the weekend.
HIGHLIGHTS:
– walk to the highest peak of Mala Fatra – Velky Krivan
– climb ladders along waterfalls in the gorge Janosikove diery
– see beautiful landscapes from the top of the mountains
– stay in a cozy family owned guesthouse in between the mountains
You will be staying in a small family owned guesthouse Penzion Sagan of 3* standard, situated in the quite village of Terchova – Stefanova, situated right in between the mountains.
To learn more, scroll down to itinerary and FAQs.
Testimonials
Our customers love what we do
I highly recommend Adventure Hiking in Slovakia with Slovakation. It was one of the most rewarding trips I have done. Patrik was such a fun & helpful guide. He made sure that everyone felt safe, especially when it came to the ladders & catwalks (I conquered my fear of ladders & edges!!!). There was clear communication before we arrived in Slovakia & throughout the trip, Patrik was also available for us in our free time if we needed anything. I hope to return to Slovakia one day and would do this tour again!
Just come back from the weekend adventure hiking trip in paradise national park. Was amazing and beautiful especially in Autumn. Hiking with a twist. I can't thank Martin enough, everything you expect from a guide and much more. Extensive knowledge and a great person. I very rarely go back to the same place twice however will definitely book a different trip back in Slovakia in the near future. Solo travelled. Made some fantastic memories with people I would now consider good friends. 10/10. Thank you so much.
Slovakia is a stunning country and I couldn't have asked for a better introduction than a few days hiking in Mala Fatra National Park with a group led by Martin. Martin is a fantastic host and guide. Very nice people, lovely accommodation, amazing hot chocolate and breathtaking landscape. Thank you Martin. I will be back!
Hiking in Mala Fatra, Slovakia - One of the really beautiful walking trips I have been to and what better than being organised and led by Martin – a local who know his country so well! 4 days of awesome walks through the different terrains, gorges, ridge walks with a visit to the Spa which was an icing on the cake. Our accommodation was in the valley which offered scenic views, the staff very welcoming and pleasant. Martin ensured that we had a great time inspite of the weather… he also offered and planned an additional walk and a visit to the watch tower without any of us even asking for it – it wasn't a part of the itinerary. Found Martin to genuinely like what he does…he did go an extra mile to ensure we had a good time. Would recommend this trip! As for me, would love to do the Slovakian Tatras when I get a chance next!
What is included in this tour?
3 nights in ensuite twin rooms
3 breakfasts and dinners
1 cable car ticket
Guiding by certified local guide
All transfers including airport transfers
Flight tickets to Krakow
Lunches
Itinerary
Tour Plan
ARRIVAL AND MEETING IN KRAKOW
16:00 Meeting at the airport in Krakow and transfer to your accommodation in the village of Terchova.
HIGHEST PEAK
Leave the accommodation in the morning and head to local ski resort to take the cable car up the mountains to make the day easier. After getting quick almost to the top of the mountains, you will hike to the highest peak of the area – Velky Krivan. You will spend the next couple of hours walking on the main ridge of the mountains and enjoying the views all around you before starting the descent back down.
Length: 13 km, Ascent:  428 m, Descent: 1300 m, Est. walking time: 6 hrs
ADVENTURE HIKING THROUGH A GORGE
Today you will hike directly from your guesthouse and head to gorge Janosikove Diery. You will climb ladders along small waterfalls, walk in between high cliffs and sometimes use chains to overcome obstacles. You can´t be afraid of heights to do so!
Length: 12 km, Ascent:  800 m, Descent: 800 m, Est. walking time: 6 hrs
JANOSIKOVE DIERY GORGE AND DEPARTURE
Check out from the accommodation and get ready for the last and the easiest hike through the gorge Janosikove diery again. Today you will walk through the lower part of the gorge, yet still very intersting.
Length: 5,5 km, Ascent:  200 m, Descent: 200 m, Est. walking time: 2,5 hrs
Arrival back to the airport at around 16:00.
Quality of accommodation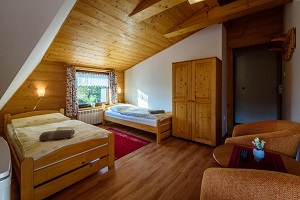 Twin room