During this tour you will hike in four different national parks across Slovakia, go on easy hikes to the most beautiful places with no rush and enough time to enjoy the places.
This trip is intended for solo travellers, couples and small groups and everybody who likes hiking and being outdoors. The group will consist of maximum 8 participants, who don´t like to rush and for whom "path is the goal" .
You can fly to our meeting point at Krakow Airport from many European cities (London, Dublin, Brussels, Berlin, Munich, Dortmund, Amsterdam etc), where you will be met at 16:30 on the first day and dropped off on the last day at 12:00. You can also travel by FlixBus from Berlin and other places directly to Krakow Airport.
The hikes that we are going to walk on this trip will be of easy difficulty. Everyday we will walk for approx. 10 km with the total vertical ascent of 400 metres. The longest hike will be 13 km long with 700m of vertical ascent in the Western Tatras mountains. You don´t need any previous experience with hiking, just to be in a good shape to be able to walk the hikes every day.
To learn more about the trip, look at itinerary of the tour, FAQs or contact us directly via email.
The Tatra Mountains is the smallest mountain range with the alpine character in the world. Even though 26 peaks are higher than 2 500 metres (8 200 ft) and it offers almost everything, as for example the well-known Alps, except the glaciers. They melted away thousands of years ago (and that´s why the peaks are so sharp nowadays). 🙂
If you would like to explore Slovakia, don´t hesitate and join us on this trip. We will lead you in the mountains and show you the best places you can visit there. You will walk along the streams, through the dwarf pines, below majestic peaks, you will enjoy lunches on the shore of lakes and hopefully observe some wildlife such as chamoix or marmots.
On one of the days you will visit also the Slovak Paradise National Park to see and explore a different environment. Hiking in this park is all about climbing ladders, walking on catwalks and bridges past waterfalls and lush vegetation in the park's remarkable gorges.
Popular activity among Slovaks is going to the thermal pool, so we shouldn´t skip this when you´re here. There is a good thermal pool with geothermal water close to the High Tatras. It´s really relaxing after long hikes in the mountains. We can visit the pool after the hike in the evening, so don´t forget to pack the swimwear.
If you have any further questions, feel free to contact me.
Testimonials
Our customers love what we do
I recently got back from a 6 day trip with Slovakation and had an incredible time! We were in a group of 6 and explored the main national parks. The itinerary was perfectly planned, with a great mixture of hiking and personal time to relax afterwards. The accommodation was fantastic and the food was delicious. Huge thanks to Patrik for being a fantastic guide, especially as he went out his way to go back up one of the peaks, after the clouds cleared at Mala Fatra. We had freedom as a group to go on ahead if you wanted some alone time when hiking, but always felt safe knowing Patrik (our guide) was nearby. Communication was clear and responses were quick in case of any questions I'm hoping to go back again on another tour in the near future Thanks Patrik and Martin for an amazing holiday! :D
I had an amazing 4-day hiking tour with Slovakation. Martin, our tour guide is a great guide and person, full of fun and interesting stories. Had so much good time during the tour with an amazing group of people who made the tour unforgettable. Have already recommended friends and now recommend also everyone here. It is a great experience and chance to explore the breathtaking mountains of Slovakia.
What an exhilarating and adventurous experience, trekking the "High Tatras" and the "Slovak Paradise", especially thanks to Martin (Slovakation) for perfectly and beautifully organising our trip. I strongly recommend a visit to this unexplored but absolutely stunning area, with none other than Slovakation - they're the BEST!
Great hiking days spent in the High Tratra Mountains. All was arranged by the organization: routes, hotel, airport transfer and additional activities. The routes were very well chosen and the guidance was expertly driven considering the diversity of the group. If you want to discover the beautiful Slovakian mountains, have a taste of Slovakian culture and landscapes, and have a relaxing hiking trip being in good hands, this is your agency.
What is included in this tour?
2x Accommodation in ensuite twin rooms in Mala Fatra
3x Accommodation in ensuite twin rooms in High Tatras
5x breakfast and 5x dinner
1x cable car ticket in Mala Fatra
Guiding by Slovak certified guide
Entry fee to national parks
Transfer from and to the Krakow airport
Transfers within the trip
Financial protection according to Slovak Law
Entrance fees to the thermal pool or other possible visits
Lunches – either at the mountain hut, or prepared by yourself
Travel insurance covering this kind of activity
Cost of travel to meet in Krakow, Poland
Itinerary
Tour Plan
The itinerary of the tour may be changed due to the weather conditions or group abilities.
ARRIVAL
16:30 We will meet at the Krakow Airport. Please arrive to the airport on time for meeting at 16:30
19:00 Arrival to the Mala Fatra and settling down in the hotel
19:30 Dinner
Mala Fatra day
8:00 Breakfast
First hiking in the Mala Fatra National Park. We will take a cable car straight to the highest mountains, walk on the main ridge and stop for lunch and drinks on a local mountain hut. Afterwards we will visit Janosikove diery gorge, which is impressive gorge created just by water. You can´t be afraid of heights because of ladders we need to climb.
16-17:00 Coming back from the hike
10,5 km of walking
445m ascent, 445m descent
Western Tatras day
7:30 Breakfast
8:30-9:30 Transfer to Western Tatras
9:30 We will begin to hike towards famous Lakes Rohacske plesa and will descent back along Rohacsky waterfall. There will be a mountain hut to stop for drink again. Overall this will be the most difficult hike in terms of ascent, but it´s not too steep and big part of the hike will be walked on tarmac road.
16:00 Finish of the hike and trasnsfer to the High Tatras mountains for the next 3 nights
13 km of walking
720m ascent, 720m descent
High Tatras day
8:00 Breakfast
You will visit the famous Lake Strbske pleso. Lake with an amazing panorama of mountains right behind the lake. Afterwards we will set off on a hike with great views to Lake Popradske pleso to enjoy hearthy lunch right at the shore of the lake. After the hike in the afternoon we will also take you to a coffee place with the most beautiful views.
17-18:00 Coming back from the hike
In the evening we may visit local thermal pools to relax and recover after 3 days of hiking
12 km of walking
350m ascent, 350m descent
Slovak Paradise day
8:00 Breakfast
Today you will visit this unusual area, often called "a playground for adults", where you will be hiking through narrow canyon, walk on catwalks and bridges above a river and come to a magnificient viewpoint – Tomasovsky vyhlad.
17-18:00 Coming back from the hike
11km of walking
250m ascent, 250m descent
Departure
8:00 Breakfast
9:00 Departure to Krakow Airport.
11:30-12:00 Coming to Krakow Airport
Quality of accommodation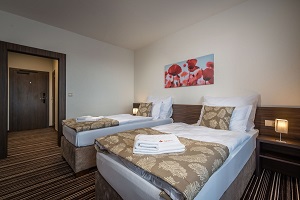 Twin room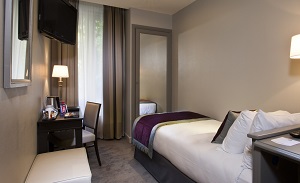 Single room