Join us for a hike & bike weekend to the Tatras mountains and the Slovak Paradise national parks. In just 3 days we will take you to the most beautiful, places of these national parks. It's not going to be just an ordinary hiking trip. You will climb ladders along numerous waterfalls and walk on horizontal wooden bridges and catwalks in the Slovak Paradise. We will also take you to one of the most peaceful places of Tatra mountains. Because it´s so remote, you will need to bike halfway up and hike for the rest of the way. In the afternoon you will enjoy a downhill bike ride back from the mountains. You will see lakes and admire picturesque views.
Your nights will be spent in a 3* hotel or guesthouse, situated in the beautiful settings of the Tatra mountains or the nearby town of Poprad.
GENERAL INFORMATION
• Meeting point: Krakow Airport in Poland at 16:00 on Saturday
• Drop off: Krakow Airport in Poland at 12:00 on Tuesday
You can fly to Krakow from all over Europe.
Perfect for:
This is the perfect getaway if you're seeking an active weekend getaway in beautiful, yet less known part of Europe. The trip includes hikes and activities of moderate difficulty (15-18km of walking with elevation of up to 800 meters and 16 km of biking on one of the days).
Learn more about the details in the itinerary or FAQs.
This tour can be organised as a private group tour as well. Contact us for a quote at [email protected].
What is included in this tour?
2,5 days of guided hiking
3 nights of accommodation in a 3* hotel in a twin room
3 breakfasts and 3 dinners
Professional, English-speaking, local guide
All group transfers
Mountain bike rental
Cable car ticket
Lunches
Travel insurance covering hiking activities
E-bike for surcharge of 10 EUR
Itinerary
Tour Plan
Arrival
We will meet at the Krakow Airport on the first day at 16:00 and will drive you to your hotel in the area of the Tatra mountains.
We will review the weekend's plan after your check-in during dinner.
Hike & Bike to mountain pass Hladke sedlo
Today you'll  hike and bike to mountain pass Hladke Sedlo – one of the least visited and most peaceful places in Slovakia. It is situated at the borders with Poland and offers amazing circular view of the mountains. First, you'll cycle for 8 km along flat gravel track into the Koprova valley, next you'll visit the highest waterfall in the country and then hike to the lake.
It's a hard place to get to but well worth the effort. If cycling isn't your thing, e-bikes are available for a small extra fee, just let us know what you prefer.
Hiking: 6 hrs, 12 km long, 670 m ascent and descent
Biking: 2 hrs, 16 km long, 320 m ascent and descent – on an old asphalt road, steadily ascending, with one short steeper part.
After the hike we can possibly stop at famous Lake Strbske, if there will be enough time.
Hike Sucha Bela and Prielom Hornadu Gorges
After breakfast you'll head into Slovak Paradise for an extraordinary experience in the park's gorges.
The hike will take you along the bottom of Sucha Bela Gorge, one of the longest and most popular gorges in the park.
You'll walk through water, over fallen trees, climb ladders, and even pass through a window-like hole in the rock. Along the way you'll pass waterfalls, rock formations, pools and more.
Emerge from the gorge for lunch at a mountain hut, then continue your hike through Prielom Horndu Gorge.
This hike is famous for its series of ledges and catwalks above the Hornad River.
You can´t be afraid of heights to do this hike.
16 km distance, 700 m ascent, , 6 – 7 hours of walking
Hike to peak Predne Solisko above Strbske Pleso
This hike is like a "cherry on top". You will get a great reward without much effort. You will hike to 2100+ meters high peak – Predne Solisko, however you will take a chair lift to 1800 meters to make the day easier. Afterwards we will just hike up to the top of the peak for amazing views.
5 km distance, 300 m of ascent, 2,5 hrs of walking
Departure
We will take you back to the Krakow Airport and leave the hotel at around 8:30 to be at the airport at 11:30. You can book your flights back home after 13:00.
NOTE
This itinerary and the duration of the activities are subject to change due to group abilities and preferences, weather conditions and forecasts, special events, etc.
Quality of accommodation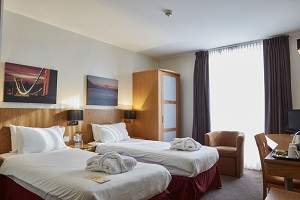 Twin room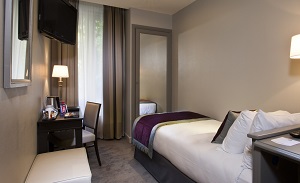 Single room