Join us for a long weekend of hiking in off-the-beaten-track places of Tatras mountains and Slovak Paradise national parks. We will take you to beautiful, yet less popular places. It´s not going to be just an ordinary hiking trip. You will be climbing ladders along numerous waterfalls and, walking on horizontal wooden bridges and catwalks in the Slovak Paradise. We will also take you to one of the most peaceful places of Tatra mountains. Because it´s so remote, you will need to bike half-way up and hike for the rest of the way.
Plus we will take you to local thermal pools on one of the evenings to relax after couple of days hiking. Believe us, there is no better way to relax your body, than soaking in hot geothermal water.
Your nights will be spent in a family owned 3* hotel, situated in a beautiful settings of Novy Smokovec, a village right at the foot of Tatra mountains.
Your trip includes:
• 3 days of guided hiking
• 3 nights of accommodation in a 3* hotel in a single room
• All breakfasts and dinners
• Professional, local, English-speaking guide
• Ground transfers
• Mountain bike rental
• 2,5 hrs entry to thermal pools
COVID-19 SAFETY MEASURES
We have implemented the following measures to ensure your weekend will be as safe as possible:
Single room accommodation – every participant is going to stay in a single room with no extra surcharge
Small group experience – up to 8 participants only + our guide
Rooms disinfection – the hotel rooms are disinfected after each client
Face masks – will be provided for all transfers or interiors (hotel)
Hand sanitizers – will be available to use anytime you need by our guide and in the hotel
GENERAL INFORMATION
• Meeting point: train station in Poprad at 20:00 on Thursday
• Departure: train station in Poprad at 15:00 on Sunday
Poprad is easily reachable by train directly from Bratislava; Vienna or Prague. Write us at [email protected] to give you an advice on how to get to Poprad.
To see recommended train connections from Vienna and Prague, have a look at FAQs.
Perfect for:
This is the perfect getaway if you're seeking an active weekend getaway in a mountain range every bit as scenic as the Alps—but less expensive and more personal.
Learn more about the details in the itinerary or FAQs.
This tour can be organised as a private group tour. Contact us for a quote at [email protected].
What is included in this tour?
3 days of guided hiking in the High Tatras
3 nights of accommodation in a 3* hotel in a single room
Professional, English-speaking, local guide
All breakfasts and dinners
Ground transfers
2,5 hrs entry fee to thermal pools
Rental mountain bike
Travel costs to/from Poprad
Lunches
Travel insurance covering hiking activities
E-bike for surcharge of 10 EUR
Itinerary
Tour Plan
Arrival
We will meet in Poprad at the train station on the first day at 20:00 and will drive you to your hotel to in Stary Smokovec.
We will review the weekend's plan after your check-in during dinner.
Hike & Bike to Lake Temnosmrecianske
Today you'll  hike and bike to Lake Temnosmrecianske – one of the least visited and most peaceful places in Slovakia. First, you'll cycle for 10km along flat gravel track into the Koprova valley, next you'll visit the highest waterfall in the country and then hike through the forest to the lake.
It's a hard place to get to but well worth the effort. If cycling isn't your thing, e-bikes are available for a small extra fee, just let us know what you prefer.
Hiking: 5 hrs, 10,4 km long, 500m ascent and descent
Biking: 2 hrs, 10 km long, 300m ascent and descent
After the hike we can possibly stop in famous Lake Strbske, if there will be enough time.
Hike "Fireplace" Gorge in the Slovak Paradise
You´ll visit a different narional park today – the Slovak Paradise and Piecky gorge. The name means "fireplace" and refers to the amazing rock formations in the canyon.
Ladders to climb await you, including some horizontal ones that take you over green and blue pools of water, and others that climb alongside multi-story waterfalls.
In the late afternoon you'll head to local thermal pools for several hours of relaxation.
500m ascent, 13km distance, 6 hours of walking
Village with hobbit-like cellars
After breakfast you'll pack up and head to village of Liptovska Teplicka, famous for hobbit-like cellars. You will ascent to vast meadows above the village with amazing panorama view of the Tatra mountains for a lunch.
We will show you charming cellars after hike and head back to the car for your transfer to Poprad. We will be back at the train station at 15:00. Return home with stories and photos to share with your friends.
6 km of walking, 200 m of ascent
NOTE
This itinerary and the duration of the activities are subject to change due to group abilities and preferences, weather conditions and forecasts, special events, etc.
Quality of accommodation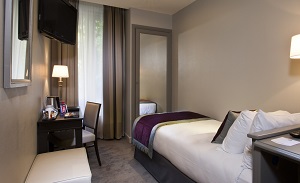 Single room