Come to Slovakia in winter, to enjoy the winter silence (only the squeaking snow under your feet) and the icy mountain landscapes. Every morning you will set off on a winter walk to explore the High Tatras for 3 days and Mala Fatra on 1 day. High Tatras is the smallest mountain range in the world with an alpine character, but even though still pretty fascinating. You will be walking in the mountains covered with fresh snow, enjoy tasty food and hot herbal tea in the mountain huts and hot thermal springs on one of the evenings.
Highlights
– Hike to mountain huts and hotels and enjoy tasty meals
– See amazing mountainous landscapes
– Visit Strbske pleso and have a coffee in a cafe with the best view in entire Slovakia
– Relax in the Thermal water park Vrbov
All these activities are optional. You can choose to stay in the hotel and relax or make the program on your own. You can take skiing lessons or visit one of the towns nearby.
You can fly to our meeting point at Krakow Airport from many European cities (London, Dublin, Brussels, Berlin, Munich, Dortmund, Amsterdam etc), where you will be met at 16:00 on the first day and dropped off on the last day at around 12:00. You can also travel by FlixBus from Berlin and other places directly to Krakow Airport.
The hikes that we are going to walk on this trip will be of easy and medium difficulty. Everyday we will walk for approx. 10-16 km with the total vertical ascent of 400-700 metres. The longest hike will be 16 km long with 700m of vertical ascent in the High Tatras mountains. You don´t need any previous experience with hiking, just to be in a good shape to be able to walk the hikes every day.
More information in FAQs.
Testimonials
Our customers love what we do
We joined Andrej for his trip in the Tatras mountains. What an amazing adventure! Andrej made everything so easy and fun. We were with an awesome group of people. I'd highly recommend joining one of Slovakation's trips. 5 star ***** Even in extreme weather conditions everything was managed really well, and we got back to the airport safely and on time despite difficult driving conditions.
Great trip with Slovakation hiking around the Tatras Mountains. We did 3 hikes up to different lakes and stopped at a mountain hut for food each time. The views were incredible and our guide Tomas was so knowledgeable on the landscape and history and culture of Slovakia. Would highly recommend!
Well organised, good itineraries and great mountain 'huts' for food and drink.
What is included in this tour?
All transfers including group airport transfer
3 nights in shared twin rooms with breakfast in Tatra mountains
2 nights in shared twin rooms with half-board in Mala Fatra
4 guided walks
Equipment (crampons) needed for walks
2,5 hrs entry fee to local thermal pools
Flight tickets
Transfer from a different place than the Krakow Airport
Other possible entry fees
Lunches, drinks and 3 dinners
Itinerary
Tour Plan
16:00 Meeting at John Paul II International Airport Kraków-Balice (KRK) in Poland
2 and a half hours transfer to the area of High Tatras to your first accommodation
9:00 Leaving the hotel for a daily activity. Hike to Lake Green, which is a beautiful place. There is a cozy hut by the lake and it´s surrounded by monumental peaks.
16-17:00 Return to the hotel
Length of hike: 16 km, Meters ascended: 700, Meters descended: 700
9:00 Leaving the hotel for a daily activity. Today you will walk to hotel Sliezsky dom in Velicka valley and right after you will head to the thermal pools to relax after 2 days of hiking.
Length of hike: 13 km, Meters ascended: 500, Meters descended: 500
9:00 Leaving the hotel for a daily activity. Visit of one of the most popular places – Lake Strbske pleso and hike into the Mengusovska valley and Lake Popradske. Go for a great cup of coffee after the hike.
1,5 hrs long transfer to your next accommodation in Mala Fatra mountains.
Length of hike: 10km, Meters ascended: 300, Meters descended: 300
9:00 Leaving for a daily activity. Take a cable car and make the day easier by going straight to the highest places of the mountains to enjoy beautiful views and walk on the main ridge of the mountains.
9:00 Leaving the hotel and transfer to the airport.
12:00 Arrival back to the Krakow airport.
Quality of accommodation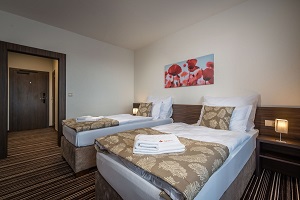 Twin room