I think Slovakia as a destination for solo travellers is an interesting option, even though it is not so popular as other countries. What is the reason? Why is it not so popular? In my opinion it´s because of the lack of information about travelling to Slovakia on your own and it may be a bit too difficult to travel around just on your own. Therefore the majority of solo travellers come for a day or two to Bratislava and that´s it. Afterwards they head to Vienna or Budapest.
But there is a lot more to see and do outside of Bratislava. You just need to know where to go and how to get there. Hopefully this article will help you to spend some quality time in Slovakia. 😉
What are the places you really need to see?
I think you definitely shouldn´t miss out our mountians – Tatra and Fatra mountains or Slovak Paradise. Just depends on your preferences. The most impressive mountains are the High Tatras. If you want to experience something extraordinary, you should head to the Slovak Paradise to climb ladders along the waterfalls (not like Niagara, but still waterfalls). To get to these places you need to travel to Poprad and change there to visit Tatra mountains or Slovak Paradise.
To get to areas mentioned above you need to travel about 5 hrs from Bratislava. The good news is you don´t have to travel so long to hike in, for example, Fatra mountains, situated close to the town of Zilina, which is a bit more than 2 hrs away by train from Bratislava. Then just change for a bus and travel to Terchova.
Apart of mountains your bucket list should include places like Košice in the east of Slovakia and the Spiš region. In Spiš region can be found the majority of sites listed in UNESCO and it´s on the way from Bratislava to Košice. I think that you don´t need more than 1-2 days in Bratislava or Kosice.
Not so far from Bratislava is situated one of the most beautiful castles of Slovakia – Bojnice castle and the village of Čičmany with its unique houses. The ornaments painted on the houses made it into UNESCO Intangible Heritage list.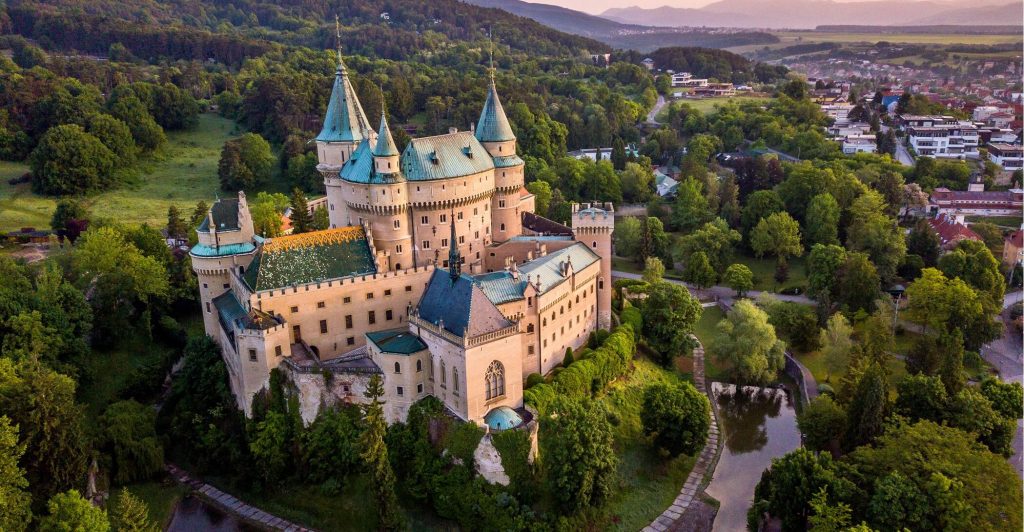 Safety
This is probably very important question. From my point of view Slovakia is a safe country. Of course you shouldn´t be walking at 3 AM through the city alone and avoid drunk bunch of guys, because you can get in trouble like anywhere else. Also pay attention to your bags in the shopping centeres and in the crowds, but otherwise there are not any major threats and you can travel around fearless.
Spoken languages
If you are visiting just Bratislava, you will be fine speaking English and you shouldn´t have any major troubles. However, you can expect it to be more difficult outside of Bratislava and especially when trying to speak with older people. They learned to speak Russian, so you can try that one, if you speak it 🙂
So always try to approach younger people when needed. The chance of getting a reply in English is higher.
Public transportation
Getting to the north of the country or travelling from the west to the east is easily doable by train. Travelling by train is more and more comfortable (some delays are not extraordinary) and trains go every hour or 2 hours. You can find all train connections at the website of Slovak Rail.
Visiting of less touristy places might be a bit problematic. It´s because you have to travel there by bus or better with hired car.
Prices in Slovakia
If you are travelling on budget, you should be aware of fact that Slovakia is becoming more expensive. (But in comparison with for example Iceland, Slovakia is really, really cheap country). 1 night for 1 person in a 3* hotel or family owned guesthouse costs around 30-50 EUR, depending pretty much on the region. But in hostels you can pay 15-20 EUR.
For a meal in a restaurant you will spend around 12 EUR/person. But transportation and services are still cheaper than in Western Europe. For example a train ticket from Bratislava to Tatra mountains, which is a 4 hour ride, costs around 13 EUR.
Other prices:
Espresso 1.50 – 2 EUR
Glass of wine 1.50 – 3.50 EUR
Bottle of beer 0.50 – 0.80 EUR
Draft beer 1.30 – 2 EUR
Bottle of wine 4 – 10 EUR
Shot in a bar 2 EUR
Loaf of bread 1 – 1.50 EUR
1 kg bananas 1.70 EUR
1l milk 0.8 EUR
You can pay with your card in 9 of 10 cases. For example it´s not possible to pay with card in mountain huts when you are hiking. Also you can´t pay with card for souvenirs buying in the streets.
Should I add anything? Let me know if you haven´t found what you were looking for.