Embark on an unforgettable week-long winter hiking adventure to the awe-inspiring Slovak High Tatra mountains! Over 5 action-packed days, you'll tread through picturesque snowy landscapes, leading you to the iconic places like Lake Zelene pleso or Lake Popradske pleso. Capture breathtaking Tatra mountain views from the famous Tree-top path on one of the days and explore the only public open cave of the High Tatras.
But it's not all about hiking! We've got some relaxation planned too. Take a dip in soothing geothermal pools to rejuvenate those tired muscles. We've got cozy 4* hotels to stay and charming mountain huts ready to welcome you for lunch each day, which serve tasty local dishes that'll warm your heart.
Join us for an adventure that strikes the perfect balance between excitement and comfort, as we explore the winter wonders of the Slovak Tatra mountains!
FIRST 20 BOOKINGS GET 15% OFF WITH CODE "first15"!!! USE THE CODE WHEN BOOKING YOUR PLACE.
Highlights
– Hike to cozy mountain huts and hotels and enjoy tasty meals
– See amazing mountainous landscapes
– Visit Strbske pleso and have a coffee in a cafe with the best view in entire Slovakia
– Relax in local thermal pools
– Explore a cave and visit a tree top patch
All these activities are optional. You can choose to stay in the hotel and relax or make the program on your own. You can take skiing lessons or visit one of the towns nearby.
The hikes that we are going to walk on this trip will be of easy and medium difficulty. Everyday we will walk for approx. 10-16 km with the total vertical ascent of 400-700 metres. The longest hike will be 16 km long with 700m of vertical ascent in the High Tatras mountains. You don´t need any previous experience with hiking, just to be in a good shape to be able to walk the hikes every day.
More information in FAQs.
Testimonials
Our customers love what we do
We joined Andrej for his trip in the Tatras mountains. What an amazing adventure! Andrej made everything so easy and fun. We were with an awesome group of people. I'd highly recommend joining one of Slovakation's trips. 5 star ***** Even in extreme weather conditions everything was managed really well, and we got back to the airport safely and on time despite difficult driving conditions.
Great trip with Slovakation hiking around the Tatras Mountains. We did 3 hikes up to different lakes and stopped at a mountain hut for food each time. The views were incredible and our guide Tomas was so knowledgeable on the landscape and history and culture of Slovakia. Would highly recommend!
Well organised, good itineraries and great mountain 'huts' for food and drink.
What is included in this tour?
All transfers including group airport transfer
6 nights of accommodation in twin rooms in 4* hotels
All breakfasts and dinners
5 guided walks
Equipment (crampons) needed for walks
Entry fees to thermal pools, cafe and Tree-top path, together with chair lift ticket
Travel expenses to Krakow
Transfer from a different place than the Krakow Airport
Personal expenses
Lunches and drinks
Itinerary
Tour Plan
Arrive at Krakow airport by 16:00 for the meeting with others and with your guide. Get to know your fellow adventurers and enjoy a relaxing evening to prepare for the exciting days ahead.
Overnight: 4* Grand Hotel Smokovec or similar
"Introduction" to the Tatra Mountains
Begin the journey with a hike to Zamkovskeho chata hut. Trek along stunning waterfalls and through snow-covered forests, immersing yourself in the winter wonderland of the Tatra Mountains.
If the snow conditions will be sufficient, you may try to ride down from the mountains on sledges.
Length: 11 km
Ascent and descent: 500 meters
Hours of walking without breaks: 5 hours
Overnight: 4* Grand Hotel Smokovec or similar
Lakes and Panoramic Views
Visit the renowned Lake Strbske pleso, offering breathtaking panoramas. Then, hike to Lake Popradske pleso, surrounded by picturesque landscapes. In the afternoon, savor a coffee with one of Slovakia's best views at a local café.
Length: 11 km
Ascent and descent: 300 meters
Hours of walking without breaks: 4 hours
Overnight: 4* Grand Hotel Smokovec or similar
Tree-top Adventure and Cave Exploration
Take it easy in the morning and enjoy a chair lift to the Tree-top path, providing fantastic views of the Tatra mountains. Afterward, explore a captivating local cave before returning to the hotel for afternoon relaxation.
Length: 4 km
Ascent and descent: 200 meters
Hours of walking without breaks: 3 hours
Overnight: 4* Hotel Patria
The Jewel of the Tatra
Embark on the longest hike of the tour to Lake Zelene pleso, nestled amidst monumental peaks. Enjoy the cozy mountain hut on the lake's shore, creating unforgettable memories in this breathtaking alpine setting.
Length: 17 km
Ascent and descent: 700 meters
Hours of walking without breaks: 6 hours
Overnight: 4* Hotel Patria
Scenic Hike and Relaxation
Today, walk to Hotel Sliezsky dom, surrounded by breathtaking mountain vistas. In the afternoon, indulge in well-deserved relaxation and recharge at local thermal pools, soothing tired muscles and revitalizing the spirit.
Length: 12 km
Ascent and descent: 650 meters
Hours of walking without breaks: 4 hours
Overnight: 4* Hotel Patria
Departure
Farewell and Departure – Bid farewell to the Slovak Tatra mountains and your fellow adventurers. Depart for the airport to catch your flight back home.
You will be back at the airport at around 11:30, so you are safe to book any flight after 13:30.
Quality of accommodation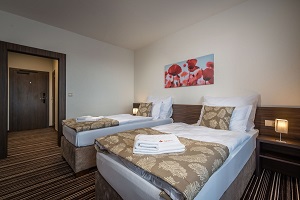 Twin room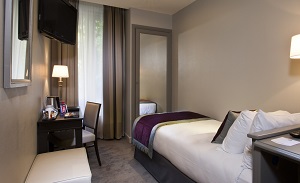 Single room