When visiting Bratislava, you can easily get out of the city and visit interesting places nearby. Whether you are looking for sights, culture or mountains, you will definitely find what you are interested in. Traveling to some places is easy with a public transportation. However traveling with an own car or rental car makes these day trips from Bratislava much more feasible.
Some trips are however very difficult or almost impossible to do in one day without a car. Some train connections and bus lines are infrequent. Therefore it makes much sense to drive a car or even book a day tour if your schedule is tight. Let's have a look at our collection of the best day trips from Bratislava and choose yours.
1. Bojnice Castle and Village of Cicmany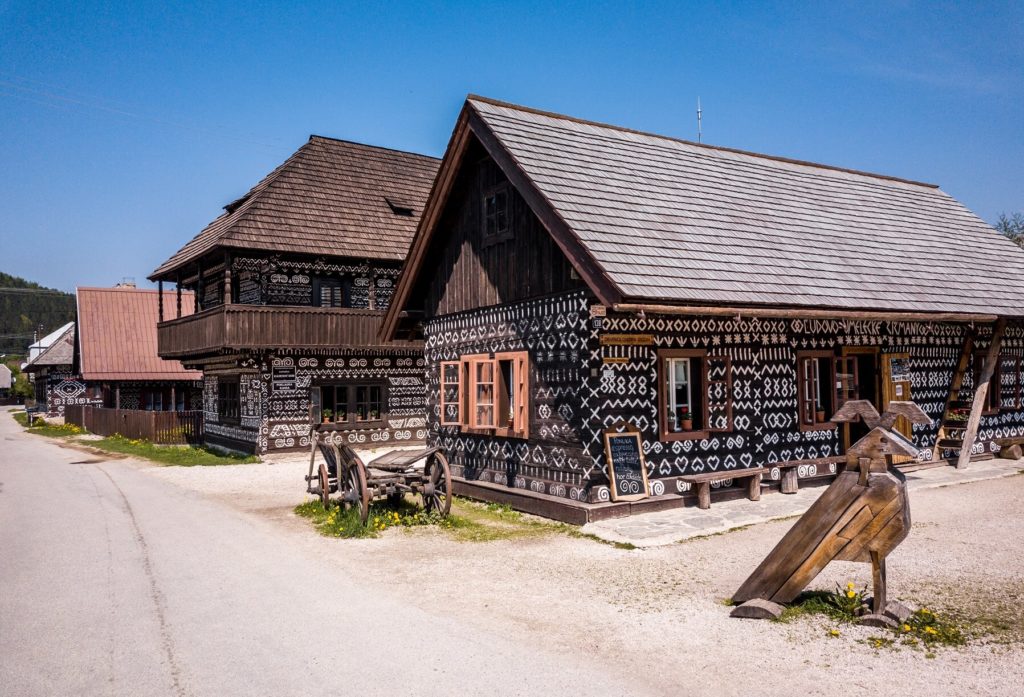 Number one place to see and visit is definitely the town of Bojnice and famous Bojnice castle, which is a direct part of a small and nice town – Bojnice. The history of the castle dates back to 13th century, when the wooden buildings were rebuilt with stones. The castle got it's current look during complete reconstruction just around 100 years ago which was inspired by French castles. The reconstruction was ordered by the owner – count Janos Palffy. Unfortunately he passed away before it was finished and therefore he couldn't see the final magnificent result.
Currently the Bojnice castle belongs to the most beautiful and the best preserved castles of Slovakia. Every single room, hall and other premises on the tour are fully furnished with hundreds years old furniture, paintings and other works of art. Most of the art works belonged to the owner Janos Palffy, who was a keen traveler and art collector. The castle is in the ownership of Slovak National Museum.
The town of Bojnice is not famous only for the castle, but also for the ZOO and SPA resort. It's easy to spend a whole day in this town and visit some of the local museums, watching tower above the town, have a cup of coffee in one of the cozy cafés or try out local craft beer.
The village of Cicmany is a quiet village in the middle of nature, forests and hills. It is unique because of old wooden houses decorated by various, simple ornaments. The tradition of painting ornaments on the houses has begun hundreds of years ago with intention of preserving the wood with lime. Pretty simple ornaments (circles, stripes, squares) have developed into more complicated, yet still simple, over the upcoming years. There was a big fire around 100 years back and lot of original wooden houses burnt down. Nowadays it is still possible to admire more than 100 original houses.
TRAVEL PLAN
Have a look at the plan of travelling below. However this day trip is rather impossible to manage with a public transportation in just 1 day. There are lot of changes and includes traveling with local buses, which can be daunting. Visiting the Bojnice castle only is possible in 1 day. If you want to visit both places in a day without any hassle, you can have a look at our day trip and book your private tour.

Getting to Bojnice
The best option seems to be to travel via Prievidza. Take a train from Bratislava to Prievidza and change for a local bus there. It will take you around 3 hours, if you manage to catch the bus heading to Bojnice right after your arrival to Prievidza.
Getting to Cicmany from Bojnice
This is getting more difficult. You need to change 2 times. At first, take a bus back from Bojnice to Prievidza. Change for a bus heading to Zilina, but get off at Fackov, Razcestie Cicmany and get on another bus heading to Cicmany. This journey can take easily 2 hours, while with a car it is around 45 minutes drive.
Getting from Cicmany back to Bratislava
This journey can take 4-5 hours itself. You can travel back via Prievidza with 2 bus lines and a train. You can also travel directly to Zilina from Cicmany and simply take a direct train to Bratislava from Zilina.
2. Medieval town of Banska Stiavnica – UNESCO
Another beautiful place to visit from Bratislava on a day trip is Banska Stiavnica. The history of Banská Štiavnica (UNESCO World Heritage Site) is closely associated with mining industry. The history of the mining in Banska Stiavnica goes back all the way to 10th century. At those times, silver was already mined there.
Thanks to highly developed mining industry Banská Štiavnica became one of the richest and most important centers in the Habsburg Monarchy in the 18th and 19th centuries was Banská Štiavnica, as it became the European centre for mining, academics, scientists and technologies related to mining. It had the third largest population in the Monarchy and the town became extremely wealthy, because of the rich gold and silver veins. The rich entrepreneurs built large, expensive and beautifully designed buildings and palaces and formed the beautiful historic town in the mountains, which remains well preserved until these days.
On your day trip to Banska Stiavnica you can visit The Mining museum, The Old Castle, The New Castle, Kammerhof or the Gallery of Jozef Kollar. If you are not such a big fan of history, you can rent a bike (or an e-bike) and spend the day biking in the hills and beautiful nature around the town. There are plenty of well marked biking routes.
GETTING THERE
Travelling to Banska Stiavnica by car is pretty easy and takes around 2 hours. Going there by public transportation takes 3-4 hours. At first you have to take a train in direction Banska Bystrica and get off the train in Zarnovica or Zvolen. Get on a bus in one of these places heading to Banska Stiavnica.
3. Mala Fatra Mountains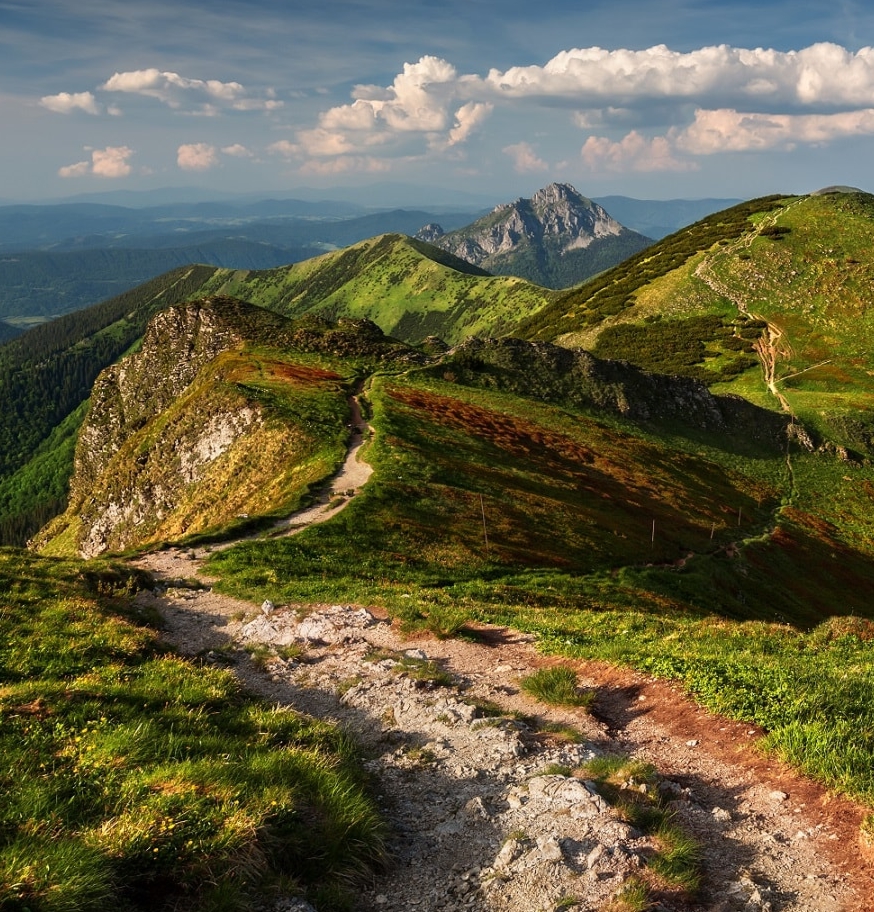 If looking for beautiful mountains with alpine character and extraordinary experience, head north to Mala Fatra mountains, nearby the town of Zilina. The highest peak of Mala Fatra is Velky Krivan, which is 1709m high. From its top you will see a vast part of Slovakia. You will see as far as border with Poland, Western Tatras, Low Tatras and also Velka Fatra. It feels like seeing half of Slovakia. The good news is that you don't have to walk all the way up on your own. You can make it much easier by taking a cable car in Vratna valley to Snilovske sedlo and the walk the last part to the peak.
By an extraordinary experience we mean hiking through gorge Janosikove Diery. However hikers afraid of heights should avoid hiking there!! On the way through the gorge you will climb ladders along small waterfalls and hold on to chains every now and then to be more stable. This is isn't for everyone 🙂
Hiking in the area is more suitable for hikers with some previous experience, as the uphill ascents are pretty steep. As mentioned before, you can use the cable car in Vratna valley, which is used by many people to get to the top of the mountains with just little effort.

GETTING THERE
Getting to Mala Fatra is fairly easy, mostly spent on a highway. It is situated just outside of the town of Zilina and the whole journey by car takes around 2 hours.
Getting there by public transportation is also not that difficult. Take a train from Bratislava to Zilina and change for a bus to Terchova from Zilina.
If it is too much hassle, you can also decide to visit the area with us. We will choose the right hike for you according to your experience, wishes and time schedule.
4. Castle Cerveny Kamen and Trnava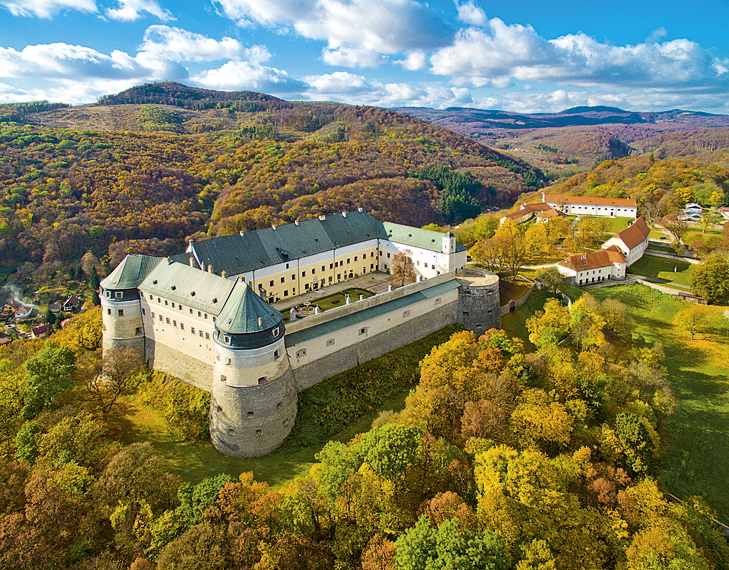 The next tip for a day out of Bratislava includes another famous castle and a town of Trnava, also referred to as "Small Rome of Slovakia", because of its countless churches.
The castle Cerveny Kamen (Red rock) is situated around 35 km away from Bratislava in the foothill of the Small Carpathians. It was originally constructed in the 13th century, however it got its current shape into an ultimate fortress and a luxurious Renaissance residence in the upcoming centuries. It remains one of the most monumental, imposing and best preserved castles until nowadays.
Trnava is the center of the district and region of the same name. It was the first town in the area of present-day Slovakia to be given the privileges of a free royal town in 1238. In the 16th century Trnava became the office of the Esztergom archbishop and the town became the religious an cultural centre of the Hungarian Kingdom for almost 300 years. This contributed greatly to the town's development.
TRAVEL PLAN
These places are situated relatively close to Bratislava and both can be visited within a day.
Getting to the castle Cerveny kamen
At first take a bus to Cerveny kamen, directly from Bratislava. You need to get off the bus at the bus stop Casta, Cerveny Kamen, which is situated right next to the castle. The journey takes about an hour.
Getting to Trnava
After visiting the castle, head back to the same bus stop and take a bus directly to Trnava with no changes. This journey takes approximately another hour.
Getting back to Bratislava
From Trnava you can easily travel directly back to Bratislava by numerous trains and buses. It's just up to you, what is more convenient for you.
5. Trencin and the Beckov castle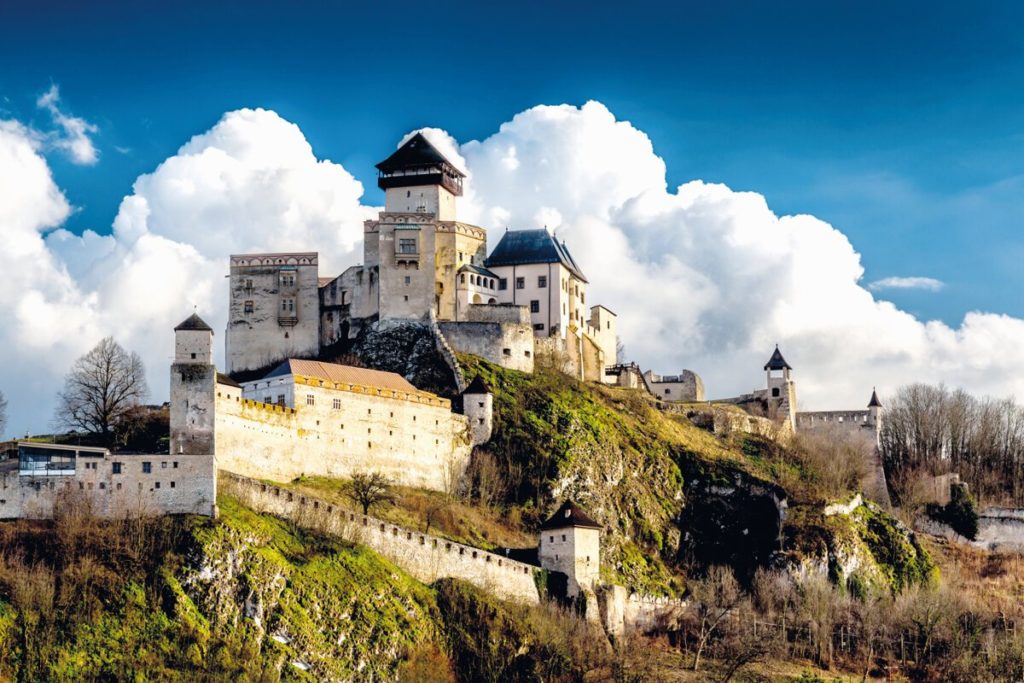 Trencin is a nice small town around 1 hour away by train from Bratislava. The Trencin castle situated above the town on the top of a rocky hill creates interesting medieval landscape. We can say that history of Trencin goes back to ancient times. The first reference to Laugaricio, Trencin's original name, dates back to year 179 AD. It is a writing on the rock below the castle, known today as the Roman Inscription. The inscription is one of the most significant Roman epigrams in central Europe.
The Trencin castle's origins go back to the 11th century, when the first buildings, a residential stone tower and a stone rotunda, were built. Later throughout the centuries it was growing bigger with more building and other courtyards.
On this day you can also visit another castle – the Beckov castle, situated around 30 minutes away from Trencin by bus. The impressive ruins of this castle are on the 50-meter cliff above the village of the same name. It was built at a strategic crossing point of the Vah River and on a major trade route. The first written mention comes from 1208. The castle served for the protection of north-western borders of the Hungarian Kingdom and proved its great defense abilities during Tartars invasion as it remained unconquered.
TRAVEL PLAN
Getting to Trencin
This is fairly easy task. Take a direct train from Bratislava to Trencin and after about 1 hour, get off the train in Trencin. Voila… you are there 🙂
Getting to Beckov
From Trencin you need to take a local direct bus to the village of Beckov. Journey takes about 40 minutes.
Getting back to Bratislava from Beckov
From Beckov you need to take a bus to Nove Mesto nad Vahom and change for a direct train to Bratislava. The whole journey will take you about 2 hours.