There are plenty of options for hiking in winter in Slovakia. Slovakia has a wide variety of mountains. From South to the North and from West to the East. It just depends on how difficult the hikes should be. High Tatras are definitely the most impressive, however due to winter closure of hiking trails, you can't go to the same places as in summer. Mala Fatra is about 1000m lower, however it's possible to go to the top of the mountains and to enjoy breathtaking landscapes. Strazovske hills are even lower, but on the other hand pretty safe, as there is not so much snow and no risk of avalanches.
FRIENDLY REMINDER
It doesn't matter where you go hiking, just make sure you have the right equipment. In winter, CRAMPONS is a must. Bring your own pair or rent them in any outdoor shop. Don't even think of going on a winter hike without taking them along with you. Most of the time the hiking trails are covered with compressed slippery snow or even ice. In those cases you just put the crampons put on your boots and you are completely stable. It feels like walking on a road in summer.
Also make sure you don't start too late during the day, because the days are short and it gets dark rapidly. Set off on a hike early in the morning after sunrise.
Find out more about each of the area below and choose which one is the best for you to visit.
1 Tatra mountains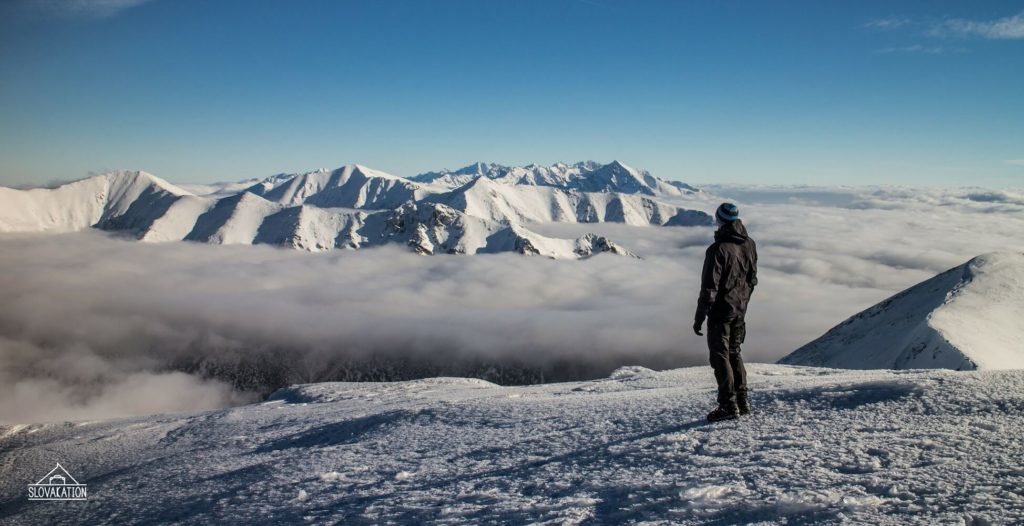 When speaking of Tatra mountains, we – Slovaks, think of 3 different areas. High Tatras, Western Tatras or Low Tatras. High Tatras and Western Tatras are the highest mountains of Slovakia. There is plenty of snow in winter. Lot of hiking trails are closed due to seasonal closure. You can walk on your own just to mountain huts and mountain hotels. If you would like to go further and higher, you should walk on skis or snowshoes and hire a mountain guide for that.
In general, walking and hiking to the mountain huts and hotels is quite safe in winter in the High Tatras. Thanks to lot of people hiking there, the trails are pretty well visible. The huts and hotels are also not situated in avalanche areas, however you can be crossing some areas on the way to them. Therefore you need to be careful and check the avalanche warnings issued by mountain rescue on the day of hiking.
In the Western Tatras you can hike up to peak Baranec, which is more than 2200 m high. This peak is the highest where you can hike in winter in Slovakia without seasonal closure. There is not a single peak open in the High Tatras. You can walk just into the valleys.
People usually go skiing to the Low Tatras, to Jasna. Which is the biggest ski resort in Slovakia. It's also possible to go for some hiking, however there are not so many options, trails are not so visible in winter and I wouldn't rather recommend you to go there for hiking on your own.
Summary of winter hiking in Tatras
PROS
– The most beautiful mountains of Slovakia
– The trails are visible even in winter, because of lot of other hikers
– Lot of mountain huts to stop for food and drinks
– Still lot of options for several days of hiking
– Enough options for all levels of difficulty
CONS
– Lot of hiking trails are closed due to seasonal closure
– Lot of snow in the higher altitudes what makes hiking really strenous
– Can't go to many peaks. Actually just one in Western Tatras
– Weather can get severe
2 Fatra mountains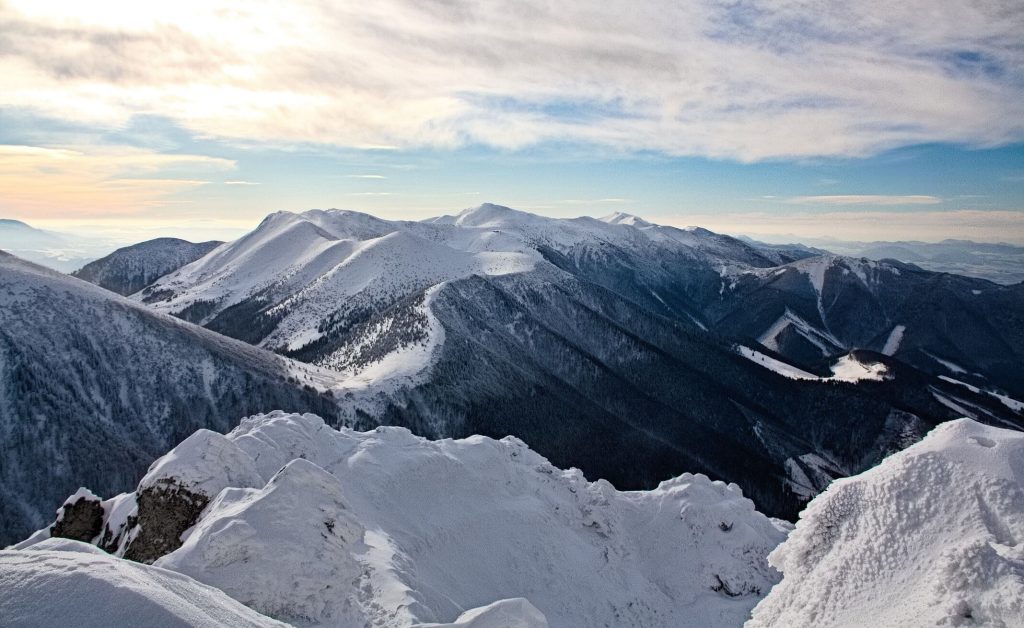 My most favourite winter hiking area is Mala Fatra. There is also lot of snow and some dangerous avalanche areas, but not as many as in the Tatra mountains. Furthermore, all trails are open and you can go everywhere in winter. Even to the top of the mountains to enjoy the views. There is less snow than in Tatras, because the area has lower altitude. Thanks to that it's all right to have just crampons and to enjoy great hiking there. Walking to the highest peak Velky Krivan, on the main ridge or through the gorge Janosikove diery.
There is even a cable car in Vratna valley, which takes you to the top of the mountains very easily without loosing any energy. It feels like cheating. But it actually feels really good when you exchange 2 hours of sweating and demanding uphill walking for a 10 minute cable car ride.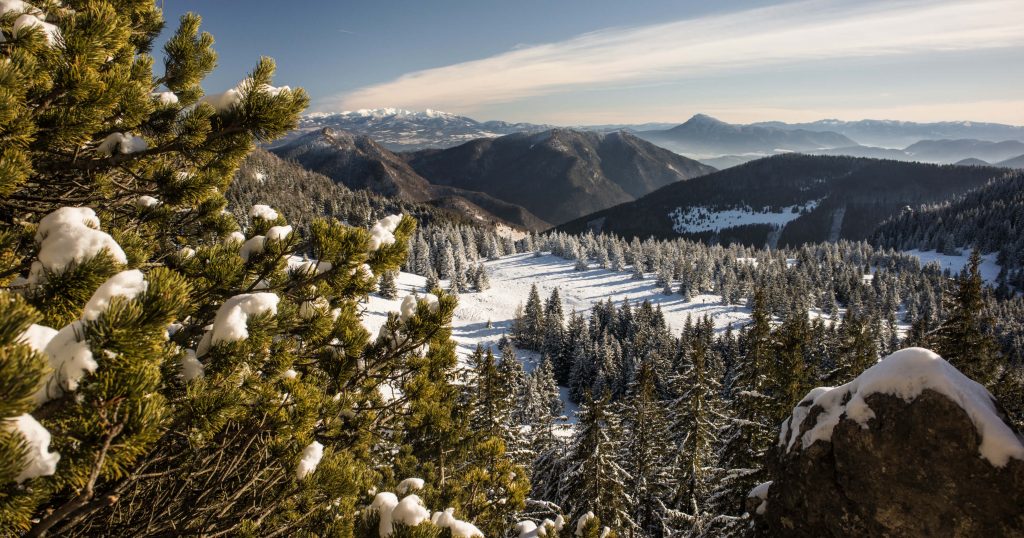 Velka Fatra is something else. There is no cable car or chair lift, not so many people, therefore it's easier to get lost there especially in poor weather conditions. The area is amazing, but you should be familiar with maps and navigation to go there in winter in case you end up in fog or clouds.
Summary of winter hiking in Fatra
PROS
– Possible to hike on the top of the mountains with beautiful views
– Less snow than in Tatras
– No seasonal closure of hiking trails, so you can go everywhere
– Enough options for a long weekend
– Relatively close to Bratislava and Vienna
CONS
– Relatively small area
– Muddy trails in the lowest areas at the end of winter
– Often windy
a
a

a
3 Slovak Paradise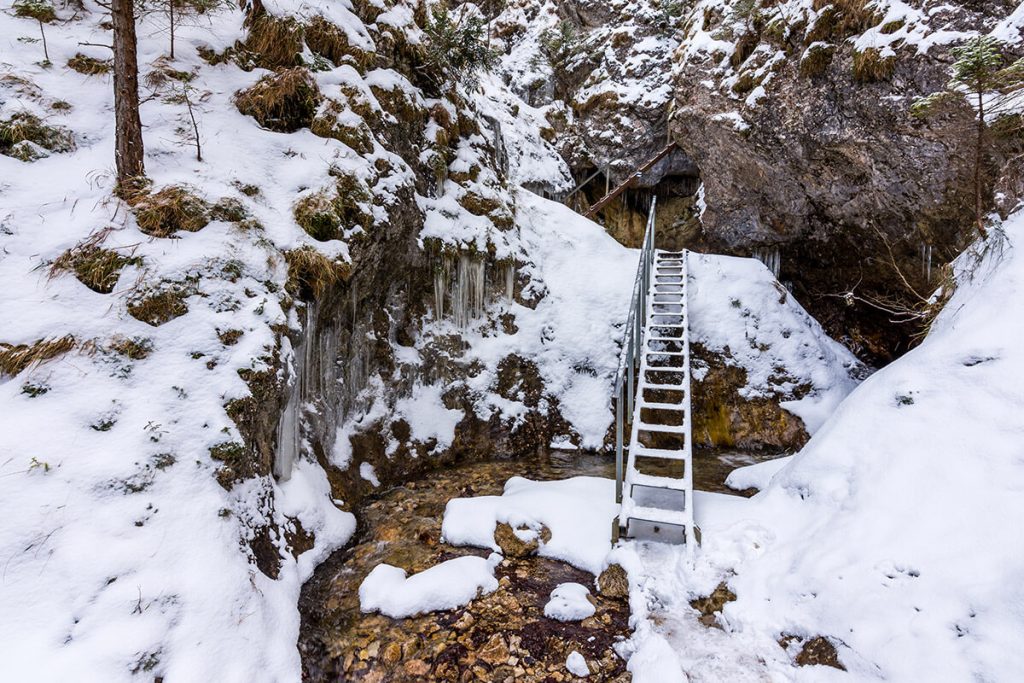 The "playground for adults", our unique national park Slovak Paradise is open for hikers even in winter. Just only gorge – Maly Kysel, with the only via ferrata, is closed. Otherwise you can walk all trails and through all gorges. You just have to be careful when walking through gorges to not step on thin ice. The water level is not very high, but you could get your feet wet anyway. Just make sure you have crampons, gloves for freezing cold chains and ladders and you are good to go.
Summary of winter hiking in Slovak Paradise
PROS
– The park is open all year round, except the via ferrata trail
– Just a little bit of snow
– Unique experience
– Enough options for a whole week
– Easy to navigate
CONS
– The trails with lot of ladders, bridges and ledges can be tricky and slippery in winter
4 Strazovske vrchy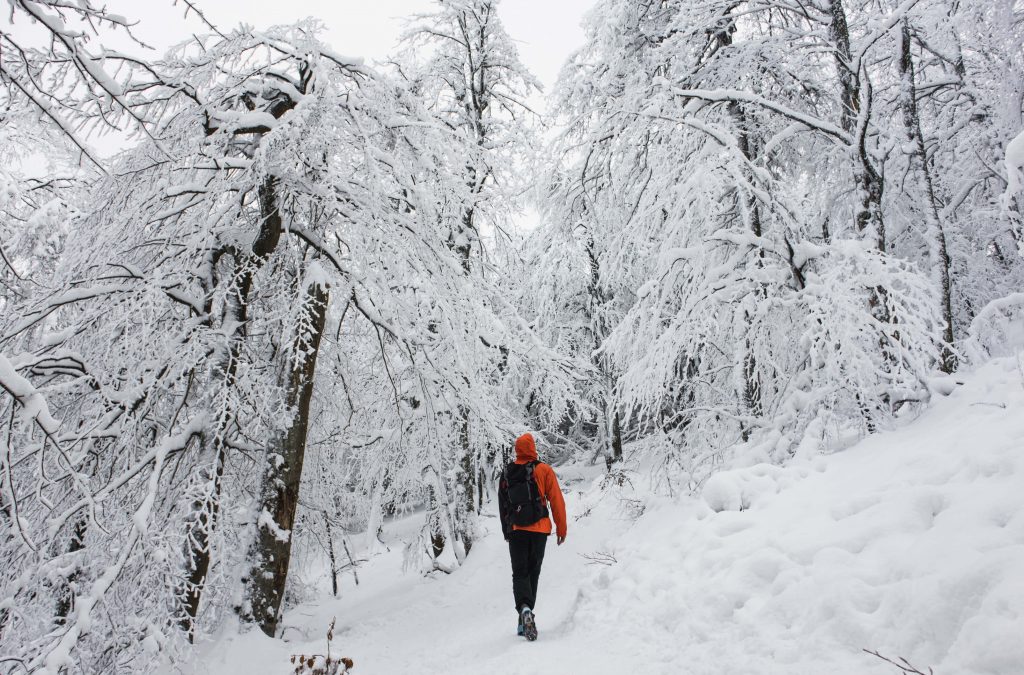 The area of Strazovske vrchy hills is suitable for not so experienced hikers as the mountains are not so high with less snow, beautiful forest and views of the countryside. The best hikes involves Strazov mountain or Vapec. Because the highest mountains are relatively easy accessible, this area is ideal to see winter sunsets. You can set off on the hike after lunch in the late afternoon and get back to the car in the dusk. Just need a head torch.
Summary of winter hiking in Strazovske hills
PROS
– Nice forest walks with viewpoints from the top
– Ideal for beginners
– Not so much snow. Crampons are enough.
– Weather gets severe just occasionally.
CONS
– Not as beautiful as Tatra mountains
a