Join us on this tour and visit the most beautiful sights and natural wonders of Slovakia. You will travel from the west to the east, visit fairytales castles, quite villages and hike to places with the most amazing landscapes.
The highlights of this tour:
– visit a fairytale castle of Bojnice
– drink a coffee in a cafe with the best views you can get in Slovakia
– rafting on Dunajec river
– see 200 years old wooden houses painted with unique ornaments like nowhere else in the world
– explore the biggest cave in Slovakia
– relax in hot geothermal water
The activities included in the tour doesn't require any previous experience, however you should be able to hike for 10 km or be ready to go rafting. The level of rafting is for beginners and doesn't require any previous experience.
The meeting and drop off point is the Krakow Airport in Poland. We will meet in Krakow at 16:00 on the first day and will drop you off back in Krakow on the last day at around 16-17:00.
To learn more about the trip, look at itinerary of the tour below, FAQs or contact us directly via email if you have any questions.
We need the minimum of 4 participants to run each departure. After we get 4 participants, the departure is guaranteed to run.
What is included in this tour?
3x Accommodation in ensuite twin rooms in Mala Fatra
3x Accommodation in ensuite twin rooms in High Tatras
6x breakfast and 6x dinner
1x cable car ticket in Mala Fatra
Transfers within the trip
2h rafting on river Dunajec
entry fees to Bojnice castle, Orava castle, Demänovska Cave of Liberty, Vrbov thermal pools
drinks and personal expenses
lunches
Itinerary
Tour Plan
The itinerary of the tour may be changed due to the weather conditions or group abilities.
MEETING IN KRAKOW
16:00 We´re meeting in Krakow latest at 16:00 and leaving north to Mala Fatra for overnight in a little village of Terchova-Stefanova
19:00 Arrival to hotel and check-in
BOJNICE CASTLE AND CICMANY
Leaving the hotel in the morning and driving to visit the fairtale Bojnice castle, one of the most beautiful castles of Slovakia, situated in a small charming town.
Afterwards we will visit a small rural village of Cicmany with unique wooden houses decorated with ornaments. They look like gingerbread housed and there is no other village like Cicmany in the world.
Bojnice castle
Cicmany village
MALA FATRA Mountains
Today you will spend in nature of Mala Fatra mountains. In the morning you will take a cable car straight to the highest mountains to enjoy the views and local cuisine at a small, cozy mountain hut.
Later that day you will walk through famous Janosikove diery gorge. You will need to climb couple of ladders when hiking there, so you can´t be afraid of heights. The day will be finished with your favourite drink at the end of the hike.
Length: 12 km, Elevation: 400 meters
Gorge Janosikove diery
Peak Velky Krivan
ORAVA CASTLE AND DEMANOVSKA CAVE
You will head straight to one of the best preserved and majestic medieval castles – Orava castle, situated on a cliff above river.
Afterwards you will cool down in a biggest cave of Slovakia, Demanovska Cave of Liberty situated in the Low Tatras mountains with its' beautiful natural decoration.
Orava castle
Demanovska cave
HIGH TATRAS DAY
You will start the day with a relaxed 10km long hike from Lake Strbske pleso to Lake Popradske pleso. You should look forward to see the views on the way and to have lunch you on a terrace situated right at the shore of the lake, surrounded by rugged peaks.
There are never enough of beautiful views, so after the hike we will take you for a cup of coffee to a cafe, which has definitely the most beautiful view in Slovakia.
In the evening you will have a chance to visit a local thermal pools with hot geothermal water to relax after couple of days of walking.
Length: 11 km, Elevation: 300 meters
High Tatras
Coffee with the best view
Thermal pools
PIENINY NATIONAL PARK
There are 9 national parks in Slovakia and today you will visit the 4th already. You will start the day with rafting on famous Dunajec river, followed by another short hike to the borders with Poland.
After another demanding day you should definitely treat yourself and therefore we will take you to a local chocolaterie cafe for a cup of hot chocolate.
SLOVAK PARADISE
When in Slovakia you also have to visit our unique Slovak Paradise. The national park very well known because of numerous ladders, iron ledges, bridges and chains in its' remarkable gorges. You can't be afraid of heights when going for a hike there. We will take you for a walk through the gorge Prielom Hornadu and to Tomasovsky viewpoint, an impressive cliff with beautiful view.
After a hike we will drive you back to Krakow with arrival at around 16:00-17:00.
Quality of accommodation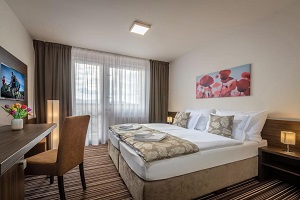 3* hotel