During this private group tour you will see the best natural wonders of Slovakia over couple of days. We will take you for short hikes in 3 different national parks – High Tatras, Mala Fatra and Slovak Paradise mountains. To make it all easier and more enjoyable, we will take cable cars high up to the mountains to enjoy breathtaking views. You will explore the biggest cave of Slovakia to admire it´s natural decoration and have chance to walk through lush gorges of Slovak Paradise.
HIGHLIGHTS
Visit the most impressive mountains of Slovakia – High Tatras
Go deep and explore the underground of the biggest cave in Slovakia – Cave of Liberty
Walk through lush gorges of Slovak Paradise and climb ladders along waterfalls
Make your way to mountains easier by taking cable cars
This trip is intended for small groups of at least 4 participants, with private departures. Just choose your desired date of the tour, pay 25% deposit and we will contact you with confirmation. It also possible to make the tour longer. In this case, please contact us for a quote.
This tour begins and ends in Bratislava, but after agreement we can agree on pick up or drop off point also in Vienna, Budapest, Krakow or some other place upon agreement. Program of the tour in particular destinations depends on your wishes and abilities and will be agreed on with our guide.
What is included in this tour?
3x nights of accommodation
3x breakfast
Cable car ride in Mala Fatra and High Tatras
Entry ticket to cave and to Slovak Paradise
Transfers from and to Bratislava, Vienna and Krakow and within the tour
Guiding by English speaking guide
Lunches and dinners
Personal expenses and other possible entries
Travel insurance
Itinerary
Tour Plan
The itinerary is flexible upon agreement and depending on group abilities and weather forecast.
Pick up at desired destination (Bratislava, Vienna, Krakow, etc) and transfer to Mala Fatra mountains to spend your first day there.
You will go for a short walk through famous Janosik Gorge, where you will climb up ladders and walk on catwalks along lush greenery.
After this short walk and lunch you will be taken high up to the highest places of Mala Fatra mountain with a cable car to enjoy beautiful views of the whole mountain range. You can even ascend to the highest peak of the area or go for a drink to traditional mountain hut. It all depends on your wishes.
Overnight in the area of Mala Fatra
Departure in the morning to the biggest cave of Slovakia – Cave of Liberty. You will go underground into it´s dark premises to admire a stream running through the cave and all natural decoration created over millions of years.
In the afternoon we will take you for a walk around famous Lake Strbske pleso directly in the High Tatras mountains and for a cup of coffee to cafe with the best view in the whole Slovakia.
Overnight in the area of High Tatras
Demanovska Cave of Liberty
Lake Strbske pleso
High Tatras Day
You will spend your day in the High Tatras today. In the morning you will take a cable car to viewpoint Lomnicka vyhliadka, which is situated in more than 2200 m above the village of Tatranska Lomnica.
Afterwards you will go for a hike on Tatranska Magistrala trail, which leads through forests, other beautiful viewpoints and along waterfalls, until you finally reach the village of Stary Smokovec.
Overnight in the area of High Tatras
Slovak Paradise day
Today you will visit this unusual area, often called "a playground for adults", where you will be hiking through narrow gorges, climb ladders along small waterfalls and walk on catwalks and bridges above streams of water.
The program will depend on you wishes and amended according to it.
Departure to desired place – Bratislava, Krakow, Vienna, etc.
Quality of accommodation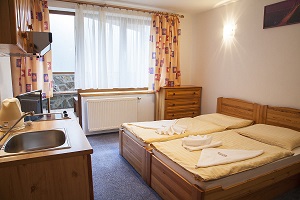 B&B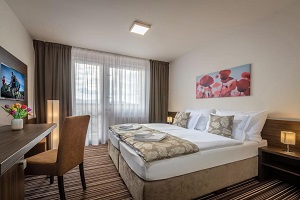 3* Hotels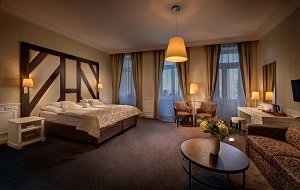 4* Hotels