Embark on an immersive journey into the heart of the Tatra Mountains. Amidst rugged beauty, hike through the Western Tatras to discover the hidden treasure of Roháčske plesa – Slovakia's tallest waterfall and five serene alpine lakes. Bike and hike to one of the most remote places of the Tatras – Hladke Sedlo for panoramic views, with no trace of civilization in sight.
Ascend Velká Svišťovka via cable car, then hike to Lake Zelené pleso, framed by monumental peaks. Immerse yourself in the enchanting beauty of Slovakia's Paradise, where lush forests, meandering rivers, and intricate rock formations create an outdoor playground. Climb ladders and walk on platforms in Suchá Belá gorge's raw grandeur. Each day offers a new frontier to conquer and a new place to admire.
During your adventure, we've got comfortable 3* and 4* hotels to stay and charming mountain huts ready to welcome you for lunch each day, which serve tasty local dishes that'll warm your heart.
FIRST 20 BOOKINGS GET 15% OFF WITH CODE "gems15"!!! USE THE CODE WHEN BOOKING YOUR PLACE.
Highlights
– Hike to traditional mountain huts and hotels and enjoy tasty meals
– See amazing mountainous landscapes
– Visit one of the most remote places of the Tatra mountains
– Climb ladders in the gorges of Slovak Paradise
– Walk past numerous alpine lakes
All these activities are optional. You can choose to stay in the hotel and relax or make the program on your own. You can take skiing lessons or visit one of the towns nearby.
The hikes that we are going to walk on this trip will be of medium to difficult level. Everyday we will walk for approx. 10-16 km with the total vertical ascent of 600-800 metres. The longest hike will be 16 km long with 700m of vertical ascent in the High Tatras mountains. You don´t need any previous experience with hiking, just to be in a good shape to be able to walk the hikes every day. On one of the days we will also bike for about 9 kilometers to make the whole day easier.
More information in FAQs.
Testimonials
Our customers love what we do
A wonderful hike with a great guide - the roads are well thought of (so you do not need to worry about nothing) you get a lot of care and help. We were on a road with Martin - he did all the possible things to assure we're all fine, if the road is pleasant for the whole group, he was sharing lots and lots of facts and interesting things about the region and the mountains. Would definitely recommend these guys if you're on a lookout for a great and active trip!
An incredible weekend hiking through the High Tatras. Our guide Patrik was brilliant - really knowledgeable about the area, friendly, and organised and planned things perfectly. Went on my own but met a really great group of people also doing the trip. 10/10 would recommend!
I recently got back from a 6 day trip with Slovakation and had an incredible time! We were in a group of 6 and explored the main national parks. The itinerary was perfectly planned, with a great mixture of hiking and personal time to relax afterwards. The accommodation was fantastic and the food was delicious. Huge thanks to Patrik for being a fantastic guide, especially as he went out his way to go back up one of the peaks, after the clouds cleared at Mala Fatra. We had freedom as a group to go on ahead if you wanted some alone time when hiking, but always felt safe knowing Patrik (our guide) was nearby. Communication was clear and responses were quick in case of any questions I'm hoping to go back again on another tour in the near future Thanks Patrik and Martin for an amazing holiday! :D
Absolutely fantastic trip - highly recommended! Tom and Roman are excellent guides which truly know and appreciate beautiful Slovakia. Can't recommend enough!
Great hiking days spent in the High Tratra Mountains. All was arranged by the organization: routes, hotel, airport transfer and additional activities. The routes were very well chosen and the guidance was expertly driven considering the diversity of the group. If you want to discover the beautiful Slovakian mountains, have a taste of Slovakian culture and landscapes, and have a relaxing hiking trip being in good hands, this is your agency.
What is included in this tour?
All transfers including group airport transfer
2 nights of accommodation in twin rooms in a 3* hotel
4 nights of accommodation in twin rooms in a 4* hotel
All breakfasts and dinners
5 guided hikes
Mountain bike rental
Entry fees to cable car, national parks
Travel expenses to Krakow
Transfer from a different place than the Krakow Airport
Personal expenses
E-bike surcharge of 10 EUR
Lunches and drinks
Itinerary
Tour Plan
Arrival to the airport in Krakow, Poland
Arrive at Krakow airport by 16:00 for the meeting with others and with your guide. Get to know your fellow adventurers and enjoy a relaxing evening to prepare for the exciting days ahead.
Overnight: Hotel Julianin dvor or similar
Hike to Lakes Rohacske plesa
You will begin your tour with a hike through the Western Tatras to lakes Roháčske plesa. Experience Slovakia's tallest waterfall and encounter five stunning alpine lakes while descending down from the mountains. Each lake reflects the surrounding peaks in tranquil serenity. Nature's beauty at its finest.
Length: 14 km
Ascent and descent: 700 meters
Hours of walking without breaks: 5 hours
Overnight: Hotel Julianin dvor or similar
Hike & Bike to most remote place of Tatras
Today you'll hike and bike to mountain pass Hladke Sedlo – a serene and secluded spot tucked away on the borders of Poland. This hidden gem boasts one of the most breathtaking circular views of the surrounding mountains.
Our journey begins with a picturesque 8 km bike ride along a flat gravel track into the Koprova valley. Along the way, we'll take a moment to visit the highest waterfall in the country, before continuing our journey on foot to the Hladke sedlo.
It's a hard place to get to but well worth the effort. If cycling isn't your cup of tea, don't worry, e-bikes are available for a small extra fee, just let us know what you prefer.
Hiking: 6 hrs, 12 km long, 670 m ascent and descent
Biking: 2 hrs, 16 km long, 320 m ascent and descent – on an old asphalt road, steadily ascending, with one short steeper part.
Overnight: 4* Grand Hotel Smokovec or similar
Hike adventure gorge Sucha Bela
You will head to Slovak Paradise to hike through Suchá Belá gorge and Prielom Hornádu today. It's not for the faint-hearted, as you'll be scaling ladders, navigating waterfalls, and crossing wooden and iron platforms high above the ground. But for the fearless, it's an exhilarating adventure that reveals the raw beauty of nature in all its glory.
Length: 16 km
Ascent and descent: 600 meters
Hours of walking without breaks: 6 hours
Overnight: 4* Grand Hotel Smokovec or similar
The Jewel of the Tatras
Start by taking a cable car up to make the journey easier. Hike to the peak of Velká Svišťovka, soaking in breathtaking panoramas of the High Tatras. But that's not all – continue your hike to the enchanting Lake Zelené pleso, surrounded by 2500+ high monumental peaks. Immerse yourself in the beauty, with nature's wonders reflected in its tranquil waters. An experience that captures the essence of the majestic High Tatras.
Length: 17 km
Ascent: 300 meters and and descent: 1300 meters
Hours of walking without breaks: 6 hours
Overnight: 4* Hotel Patria
Back in Slovak Paradise
You will be back in the Slovak Paradise today. You will start with a hike through Prielom Hornádu and the captivating Klaštorisko gorge, where you will climb some ladders again. After coming out of the gorge you will unveil ruins of a monastery from 13th century. Then, descend to the renowned Tomášovský výhľad viewpoint. A remarkable adventure that weaves nature's wonders and history, promising stunning vistas that will forever linger in your memory.
Length: 14 km
Ascent and descent: 500 meters
Hours of walking without breaks: 5 hours
Overnight: 4* Grand Hotel Smokovec or similar
Departure
Farewell and Departure – Bid farewell to the Slovak Tatra mountains and your fellow adventurers. Depart for the airport to catch your flight back home.
You will be back at the airport at around 11:30, so you are safe to book any flight after 13:30.
Quality of accommodation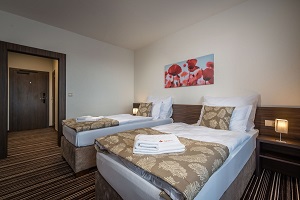 Twin room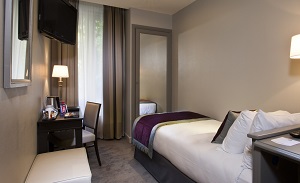 Single room