Slovakia is not just about Bratislava. We have also some beautiful national parks with great mountains to hike. You might heard of Tatra mountains, but that´s not all what we have. We also have Fatra mountains or Slovak Paradise. I´d like to show you the best hike in each mountain range so I created this list of Top 5 best hikes in Slovakia. This list is just my opinion and other people would probably tell you their favorites.
Certainly there are more hikes to do and if you are heading only to the High Tatras, you can check this 5 best hikes in Tatra mountains for an inspiration.
If you are visiting Bratislava and want to escape to nature for a day, than you should travel to Mala Fatra mountains. It takes about 2 and ½ hrs to get there by car or about 3 hrs by train and by local bus. If you have more time, you should definitely see Tatra mountains and if you want to experience something extraordinary, you are going to find it in the Slovak Paradise. Why? You´ll see below in the blog post.
The best time to visit these areas is from June till September. For example you can´t do the hike in the High Tatras until 15th of June due to seasonal closure of hiking trails. The good news is that before 15th of June you can hike in both Mala and Velka Fatra mountains and in Slovak Paradise.
If you get into troubles while hiking in national parks of Slovakia, you should remember this important number – 18 300. It´s a phone number of mountain rescue service. It´s a professional service, ready 24/7/365 to help you if you need. You should obtain travel insurance covering hiking activities. Otherwise you would have to pay the cost of the rescue on your own.
Don´t forget about proper gear when going for a hike. You should always have good pair of hiking boots, some waterproof jacket or at least raincoat, small backpack to carry some spare clothes and warmer layers (even in summer) and of course food and water.
1. Peak Velky Rozsutec – Mala Fatra mountains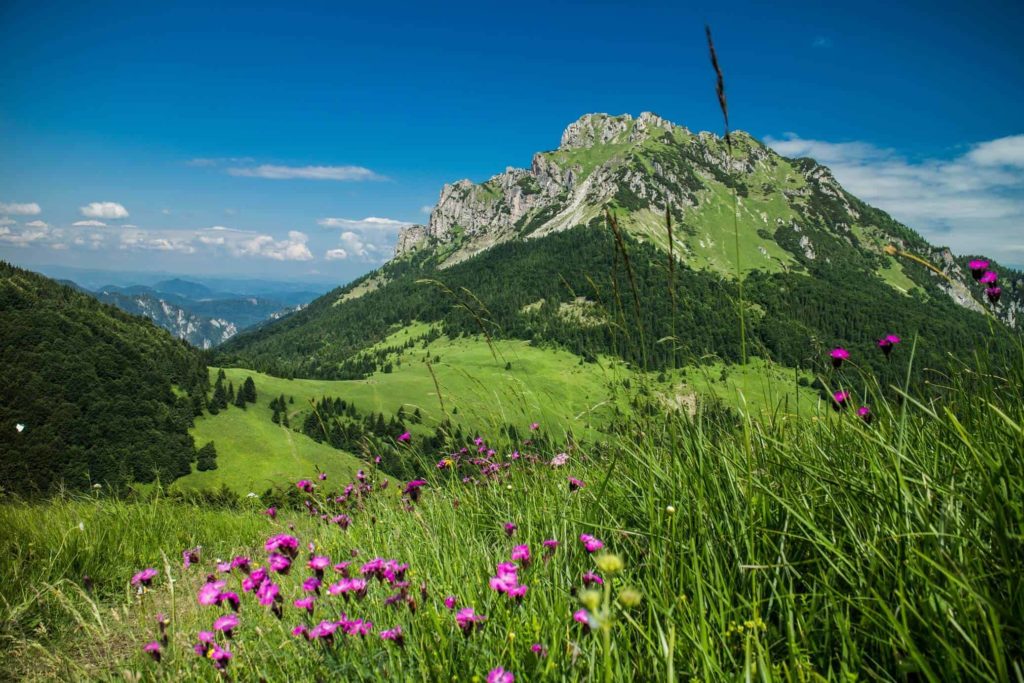 Length: 12 km │ Level: Difficult │ Est. time: 7 hrs
Let´s go from the west to the east of Slovakia. Therefore we begin with the Mala Fatra mountains and one of the most iconic peaks in Slovakia – Velky Rozsutec. Even though this peak is just a little bit more than 1600m high, it is a challenging hike with lot of vertical ascent. It´s because the starting point is situated relatively low.
There are several possible ways to the top, but I recommend you to start in Vratna – Stefanova and walk through the gorge Janosikove diery and do a loop. The gorge is remarkable, so you shouldn´t miss it. However you can´t be afraid of heights, because you will be climbing several ladders in the gorge, which are pretty high. On the way down from the top of the peak to mountain pass Sedlo medziholie is a very steep part secured with chains and lot of scrambling. This part is not good for hikers with less experience.
You can do this hike all year long, even in winter, however you need proper gear like crampons, winter clothing and possibly even an ice axe. Previous experience with hiking is a must for a winter hike to this peak and you shouldn´t go there on your own, if you don´t have much previous experience.
I already mentioned the recommended starting point in Vratna-Stefanova. This place is easily reachable by car. It´s bit more complicated if you don´t have a car and you would like to travel there by public transportation. At first travel to Žilina – by train from Bratislava, Poprad or Prague. In Žilina you need to change and travel by bus to Terchova, which is the tourist center of Mala Fatra mountains. However, not all buses go to Vratna-Stefanova. You have to get on the right one, otherwise you can end up walking several kilometers from Terchova. If you are not sure how to get there, you can simply take a taxi from Žilina.
Terchova is a beautiful village on the outskirts of Mala Fatra. It is a place where one of the most famous Slovaks, Janosik, was born. The folk festival Janosikove dni (Janosik´s days) is held in this village every year in the beginning of August.
There is no place to have lunch, so make sure you have enough food for the whole day.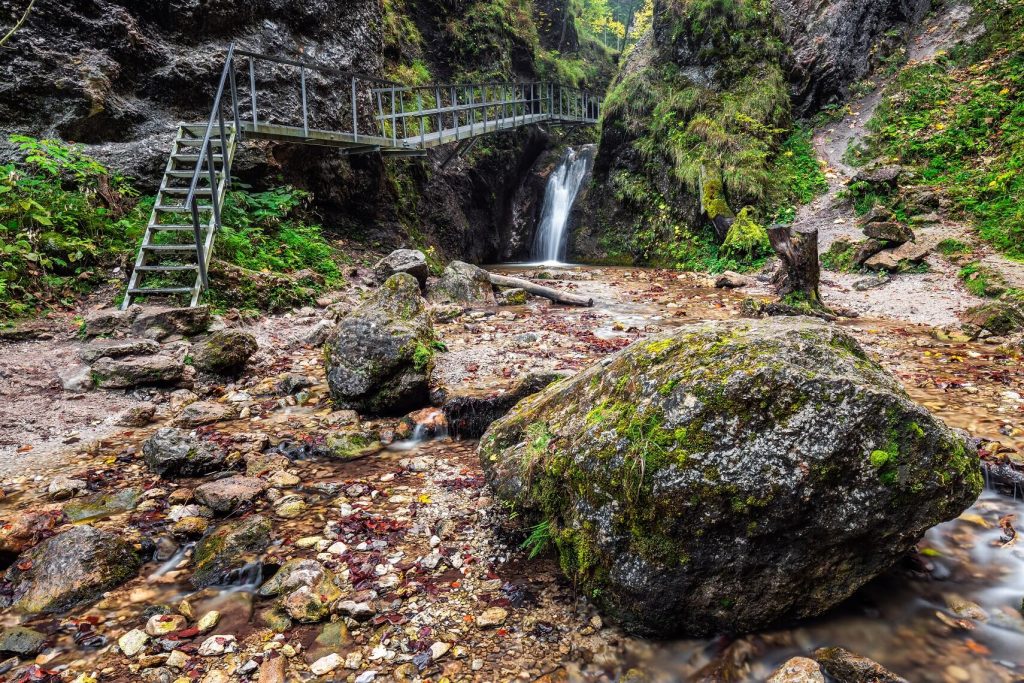 a

a
2. Loop hike in Velka Fatra mountains
Length: 18 km │ Level: Difficult │ Est. time: 6 hrs
If you are looking for an off the beaten track hike, then this hike could be the right one. The Velka Fatra mountains is not so popular and well known and that´s exactly an advantage. You won´t meet there many tourists. Most likely just couple of locals and hikers from neighboring countries.
My favourite hike starts in the village of Liptovske revuce and follows the yellow trail to the mountain pass – Chyzky. From there walk to a mountain hut – Chata pod Borisovom. Great place with an amazing atmosphere. It´s also possible to spend a night there, but (WARNING) they don´t have electricity or a shower. 🙂
After a rest at the hut, head up to a table mountain called Ploska, enjoy panoramic views and follow the red tail and descent back to Liptovske Revuce.
This mountain hut is situated under Borisov mountain. It´s a possible extension for you. The way up is steep but worth it. You will see the whole mountain range and on a day with good visibility you can see Mala Fatra, Low and High Tatras.
This area is completely different from the Tatra mountains. Till nowadays you can meet herds of cows and sheep high in the mountains, grazing the fresh mountain grass on vast meadows. Shepherds stay in the mountains with their herds from May till September. They milk the animals daily and milk is then transferred to local farms, where they make delicious dairy products.
For lunch you don´t need to carry a lot of food, because you can have it at the mountain hut. However, people with various diets (gluten free, vegans, etc.) should bring their own food. They don´t cater for different diets there.
Velka Fatra is also listed in international list of Dark-Sky parks. There is almost no light pollution at night and so you can see unforgettable night sky with Milky way and other constellations.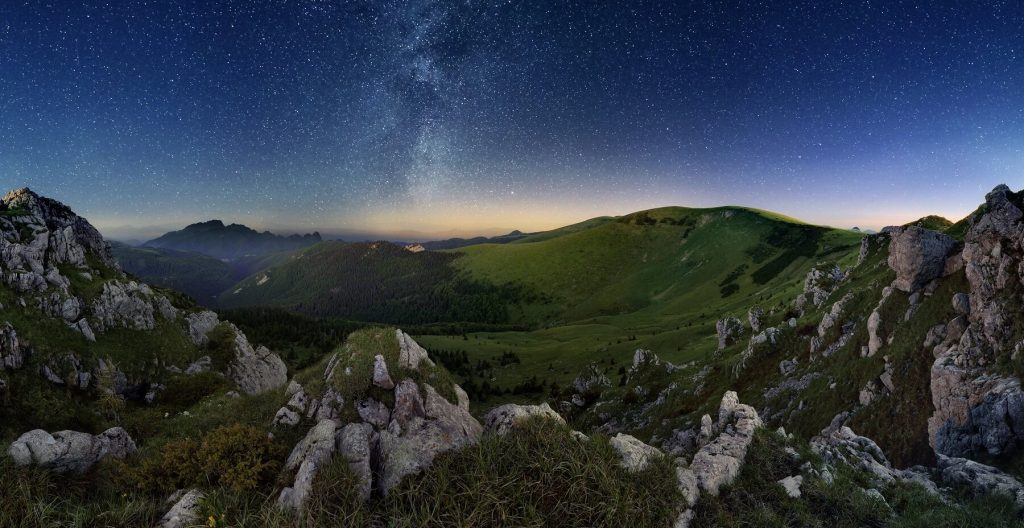 3. Ridge hike in the Low Tatras – Chopok – Dumbier
Length: 17,5 km │ Level: Medium │ Est. time: 6:30 hrs
This hike takes you to the Low Tatra mountains. Lot of hikers tend to walk from the east to the west across the whole mountain range. It is a very beautiful and popular trail and it takes about 5 days to complete it. However you can walk just a part of this famous route. Probably the most interesting part is hike between two highest peaks of the area – Chopok and Ďumbier.
This is my idea of a perfect day: In the morning go to Jasna in the Demänova valley, take a cable car up to Chopok and set off on a hike towards the highest peak of the Low Tatras – Ďumbier (2043 m.a.s.l.). It´s a great route on the main ridge. While walking you can admire the views all around. You´ll see the West and High Tatras in the north across the valley. I would say you can see about half of Slovakia on a sunny day. 🙂
Depending on your time you can go and visit Chata generála M.R. Štefánika, which is a cozy mountain hut. This extension would make your hike about 1:30 or 2 hours longer. Therefore you need to have a good pace and enough time. You can have lunch there and don´t need to bring so much food.
Other option is just going back the same way to Chopok and take the cable car back down. In this case you would probably have enough time for visiting of this mountain hut.
On the way back down to Jasna, I recommend you to walk through valley Široka dolina. However you would finish in a different place and you would have to walk along the road back to bottom station of the chair lifts and cable cars to pick up your car.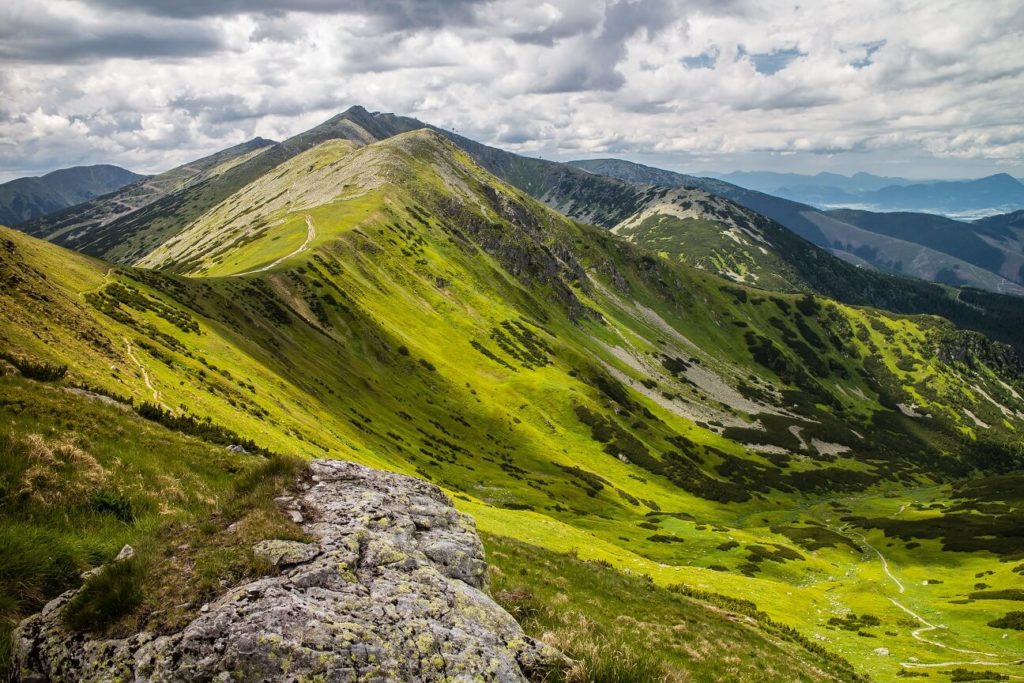 4. High Tatras – peak Koprovsky stit
Length: 21 km │ Level: Difficult │ Est. time: 8 hrs
Peak Koprovsky is situated right in the middle of Tatra mountains and you are going to have an amazing circular view from its top. You will see the West Tatras in the west and High Tatras peaks in the east. The trail goes along the biggest and deepest lake in Slovak Tatra mountains – Lake Hincovo. Great spot on the way to the top to have a break. This place might be even your final destination, where you can turn around and go back if your break will be longer than it should be. 😉 The starting point is in Strbske Pleso and the way up is the same as the way down.
I recommend rather hike to this peak instead of famous peak Rysy. This is a great alternative, because Peak Koprovsky is not so crowded and accessible only from Slovakia. Peak Rysy lies on borders with Poland = more hikers coming from Slovakia and Poland too.
Have enough of your food to eat, because there is no place to have lunch during lunchtime. However on the way back, you can stop by Lake Popradske pleso for refreshment in one of the restaurants.
The starting point – Strbske pleso is an interesting place in itself. Famous lake of the same name – Lake Strbske pleso is part of the village. So without any effort you can get beautiful views of Tatras landscape in the background behind this famous lake.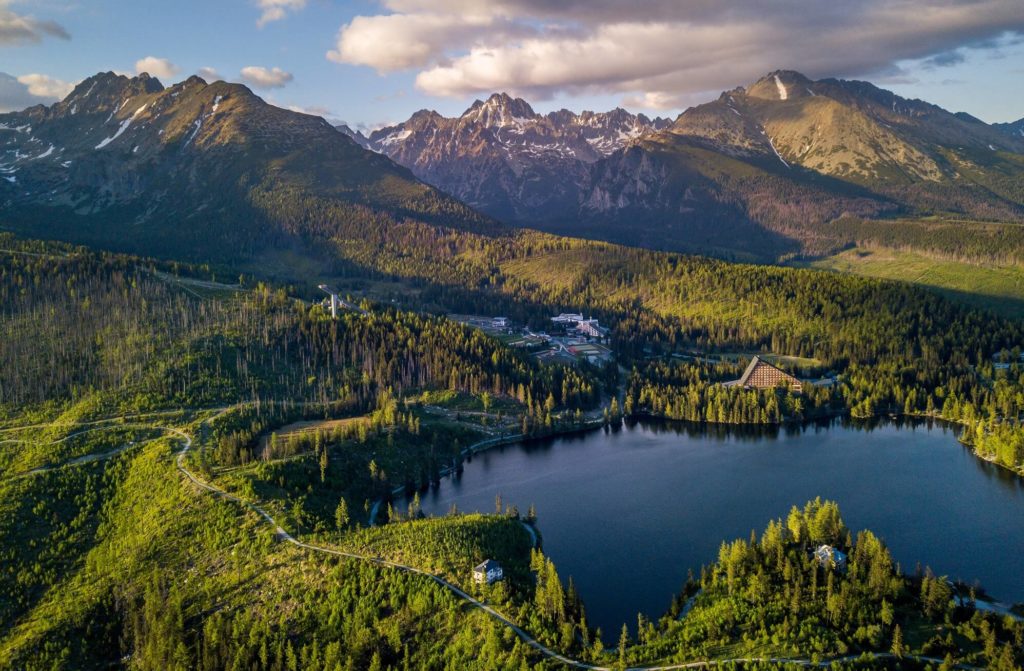 a

a
5. Adventure hike in the Slovak Paradise – gorge Sucha Bela
Length: 15 km │ Level: Medium │ Est. time: 5:30 hrs
In the Slovak Paradise you can experience something what you have never tried before. It´s not just an ordinary hiking area. Get ready for climbing ladders, walking on bridges and catwalks. It´s not about views, rather about hiking in beautiful gorges past waterfalls and lush vegetation. The most popular hike begins in Podlesok and goes through the gorge Sucha Bela. Here is my tip for you. This area is popular in summer months. To avoid the crowds you have to start the hike early. I recommend latest at 8 AM.
Some people call this national park "a playground for adults". But unfortunately it´s not intended for everyone. I mean not for people who are afraid of heights. The ladders that you need to climb when going through the gorges are several meters high (5-12 meters). There are also numerous wooden bridges (horizontal ladders) with no handrails or chains to hold on to.
You can hike in this national park all year round. Even in winter, but don´t go there without crampons! Good time to visit is July, August and September, when the water level in the gorge is lower and that makes walking through it much easier. However if you want the hike more adventurous, come there in May, early June or whenever in summer after couple of rainy days. In this case, you should only hike there with waterproof shoes, because every now and then you will have to walk through water.
Currently there is no place during this hike to have lunch, so make sure you bring along enough food and water.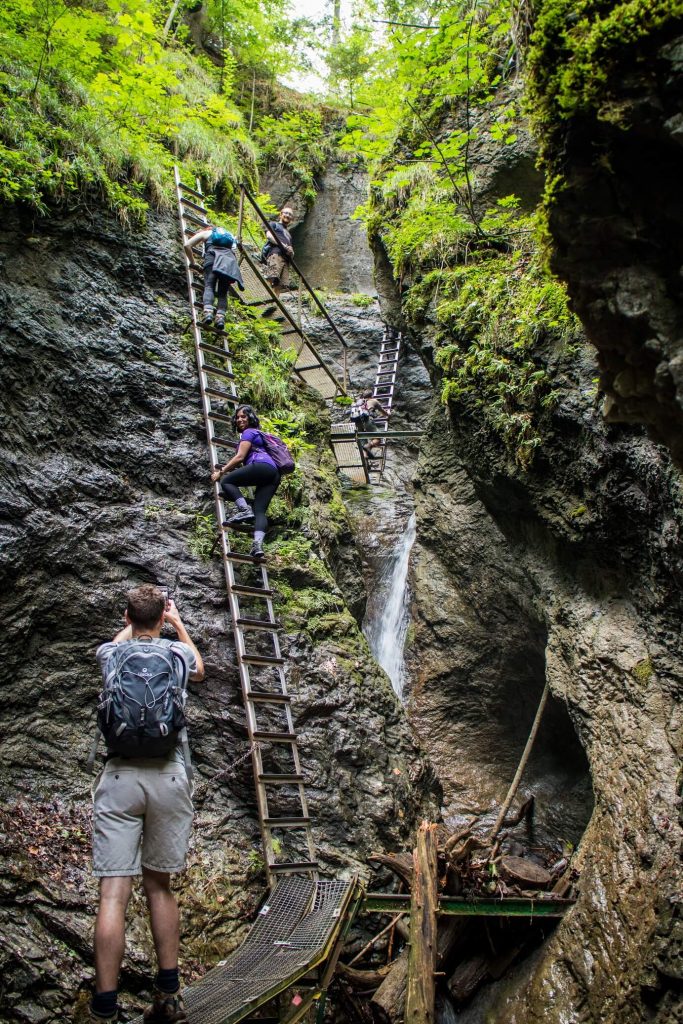 a

a
Feel free to contact me at [email protected] if you have any questions