Experience a breathtaking adventure with us as we embark on a hiking weekend to the magnificent Tatras mountains and the stunning Slovak Paradise national parks. In just three days, we'll guide you to the most enchanting and awe-inspiring locations within these national parks. Get ready for a hiking experience like no other, as you climb ladders beside cascading waterfalls and journey across horizontal wooden bridges and catwalks in the Slovak Paradise.
Our trip will take you on a journey to the peaceful and remote areas of the Tatra mountains – hike around Belianske Tatras. You will also conquer peak Predne Solisko on Sunday before going back to the airport. You will however take a chair lift halfway up the moutain, what is a good news!
Note: You can't be afraid of heights if joining this weekend, as the ladders in the Slovak Paradise are up to 10 meters high.
Throughout your adventure, you'll be staying in a 3-star hotel or guesthouse situated amidst the breathtaking surroundings of the Tatra mountains or the nearby town of Poprad.
GENERAL INFORMATION
• Meeting point: Krakow Airport in Poland at 16:00 on Saturday
• Drop off: Krakow Airport in Poland at 16:00 on Tuesday
You can fly to Krakow from all over Europe.
Perfect for:
This is the perfect getaway if you're seeking an active weekend getaway in beautiful, yet less known part of Europe. The trip includes hikes and activities of moderate difficulty (15-20km of walking with elevation of up to 800 meters).
Learn more about the details in the itinerary or FAQs.
This tour can be organised as a private group tour as well. Contact us for a quote at [email protected].
Testimonials
Our customers love what we do
Martin was absolutely amazing and it was a pleasure to discover Slovakia with him as a guide! I will recommend him to anyone who wants to go there 😊
Great hiking days spent in the High Tratra Mountains. All was arranged by the organization: routes, hotel, airport transfer and additional activities. The routes were very well chosen and the guidance was expertly driven considering the diversity of the group. If you want to discover the beautiful Slovakian mountains, have a taste of Slovakian culture and landscapes, and have a relaxing hiking trip being in good hands, this is your agency.
Had a fantastic 3 nights/4 days in Slovakia, exploring the Tatras Mountains with Patrik our guide. Patrik was very attentive and knowledgable - changed plans last minute to accommodate the weather and our friend who had an injury. The holiday itself was fantastic - a good mix of hiking with relaxation and a chance to explore the local towns as well. The hotel was comfy and the food delicious! Would highly recommend!
Martin is an excellent guide, 5 star!! I would highly recommend booking with him. He has excellent knowledge of the area and adapted the weekend to meet the needs of the group and weather. I had the best weekend. Would definitely book again to explore the beautiful Slovakian mountains in the summer. Such a beautiful country.
Just come back from the weekend adventure hiking trip in paradise national park. Was amazing and beautiful especially in Autumn. Hiking with a twist. I can't thank Martin enough, everything you expect from a guide and much more. Extensive knowledge and a great person. I very rarely go back to the same place twice however will definitely book a different trip back in Slovakia in the near future. Solo travelled. Made some fantastic memories with people I would now consider good friends. 10/10. Thank you so much.
What is included in this tour?
2,5 days of guided hiking
3 nights of accommodation in a 3* hotel in a twin room
3 breakfasts and 3 dinners
Professional, English-speaking, local guide
All group transfers
Chair lift ticket
Lunches
Travel insurance covering hiking activities
Itinerary
Tour Plan
Arrival
We will meet at the Krakow Airport on the first day at 16:00 and will drive you to your hotel in the area of the Tatra mountains.
We will review the weekend's plan after your check-in during dinner.
Hiking along the Belianske Tatras
Begin your day with a satisfying breakfast and set off on a picturesque hike all along the Belianske Tatras. Discover lesser-known trails and experience the unspoiled beauty of the area.
Take a break by the stunning alpine lake Biele pleso, bask in the sunlight, and admire the panoramic views of the rugged peaks around. Don't forget to capture these remarkable moments to cherish forever.
19 km distance, 850 m ascent and descent, 8 hrs of hiking
Hike Sucha Bela and Prielom Hornadu Gorges
After breakfast you'll head into Slovak Paradise for an extraordinary experience in the park's gorges.
The hike will take you along the bottom of Sucha Bela Gorge, one of the longest and most popular gorges in the park.
You'll walk through water, over fallen trees, climb ladders, and even pass through a window-like hole in the rock. Along the way you'll pass waterfalls, rock formations, pools and more.
Emerge from the gorge for lunch at a mountain hut, then continue your hike through Prielom Horndu Gorge.
This hike is famous for its series of ledges and catwalks above the Hornad River.
You can´t be afraid of heights to do this hike.
16 km distance, 700 m ascent, 6 – 7 hours of walking
Hike to peak Predne Solisko above Strbske Pleso
This hike is like a "cherry on top". You will get a great reward without much effort. You will hike to 2100+ meters high peak – Predne Solisko, however you will take a chair lift to 1800 meters to make your day more relaxed and enjoyable. Afterwards we will just hike up to the top of the peak, where you'll be treated to awe-inspiring views of the surrounding mountains.
5 km distance, 300 m of ascent, 2,5 hrs of walking
Departure
You will back at the Krakow Airport at around 16:00. You can book your flights back home after 18:00.
NOTE
This itinerary and the duration of the activities are subject to change due to group abilities and preferences, weather conditions and forecasts, special events, etc.
Quality of accommodation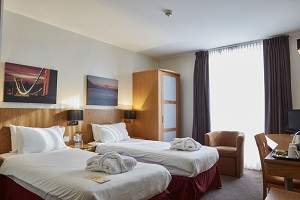 Twin room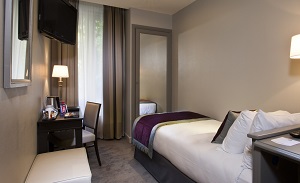 Single room